Main content
Cassidy Little
From the battlefield to the Ballroom, Cassidy lives out his dream to dance!
| Fact title | Fact data |
| --- | --- |
| Age | 33 |
| From | Peterborough (born in Canada) |
| Hero qualities | Marine Medic who helped others through rehab, despite his own injuries |
| Dance Partner | |
Lance Corporal Cassidy Little is a former Royal Marine medic, who lost his right leg below the knee during a tour of Afghanistan in the summer of 2011. An improvised explosive device was triggered, resulting in three fatalities. Despite his own horrific injuries Cassidy selflessly attempted to tend to his colleagues on the ground after the attack.
Strictly Come Dancing is a guilty pleasure. It's just the dancing: it's beautiful to watch

Cassidy Little
Following the incident, Cassidy spent a week in an induced coma, and two months in hospital. He then undertook intensive rehabilitation with his fellow injured Marines, who commented that it was Cassidy's optimism and sense of humour that helped them through an incredibly tough time. Major Steve McCulley, who spent over two years in rehab with Cassidy, stated: "Every single seriously injured service person goes through very dark periods and were it not for Cassidy, those dark periods would have been far longer and far harder for many to deal with, me included."
And it wasn't just Cassidy's upbeat attitude that helped his colleagues – but his love of dance too! Previously an avid dancer - and with a degree in music and dance - Cassidy taught fellow Marine JJ Chalmers, how to Waltz whilst out in Afghanistan, so JJ could impress his fiancée at their first dance for their wedding. When Cassidy was being airlifted to Camp Bastian following the incident, Cassidy joked: "there go my dancing days!" - But how wrong he was!
His fellow Marines can't wait to see him take to the Strictly dancefloor. As Major Steve McCulley reveals: "no one will admit to it, but Marines all have a soft spot for a bit of Strictly!"
Cassidy and Natalie's Paso Doble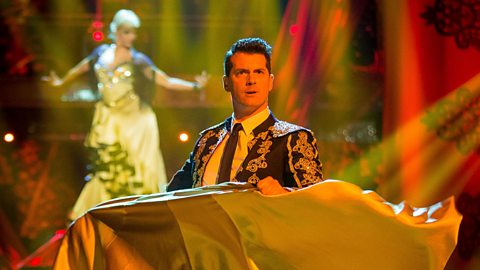 Cassidy Little and Natalie Lowe dance the Paso Doble to O Fortuna from Carmina Burana