Main content
Jon Baddeley
Jon has been with the Roadshow team for 20 years, sharing his extensive knowledge of a wide range of subjects.
| Fact title | Fact data |
| --- | --- |
| Joined the Roadshow: | 1993 |
| Memorable find: | A replica of the Wimbledon Championship Cup |
Jon Baddeley is managing director of the international auctioneers, Bonhams Knightsbridge and has responsibility for selling the whole range of fine and decorative arts, in addition to handling such speciality sales as arms and armour, coins and medals, entertainment, sporting memorabilia, and toys and dolls. 
Having trained to be an engineer, Jon decided that it was not the career for him and he joined Sotheby's as a porter. Many of his colleagues were art graduates, so whenever anything mechanical came in he was called upon for help. It is no surprise then that one of Jon's areas of expertise is scientific and technical instruments. He also specialises in celebrity memorabilia, musical boxes, automata, folk art and marine works of art, including ship models. He is the author of the reference book 'Nautical Antiques and Collectables' and has contributed to the Antiques Roadshow publications 'How to Spot a Fake' and 'The A-Z of Twentieth Century Antiques'.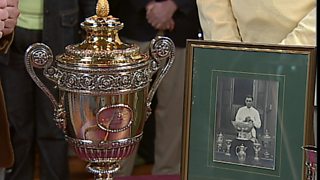 Jon joined the Antiques Roadshow team in 1993 and his most memorable moment was when the Roadshow went to Australia and he got to hold a replica of the Wimbledon Championship Cup that was awarded to the Baddeley brothers (distant relatives) for winning the Men's Doubles.
Outside the antiques world, Jon loves scuba diving. He learnt to dive whilst valuing items on shipwrecks deep on the seabed. Nowadays, he prefers to go to the Red Sea or the Great Barrier Reef to look for fish rather than antiques.