Main content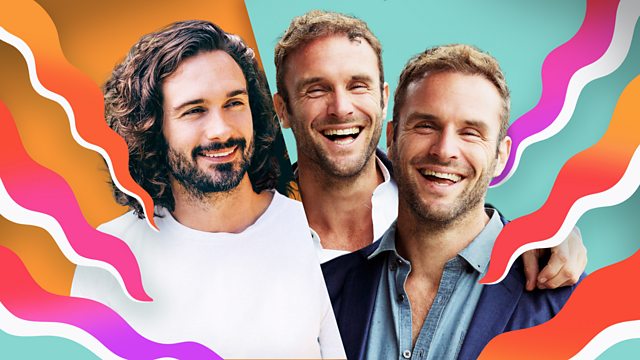 30. The Happy Pear: Stacking habits
Joe speaks to Stephen and David Flynn, AKA 'The Happy Pear', about sea-swimming at sunrise, why we need to build movement into daily life, and how to do the perfect handstand.
The UK's favourite fitness coach is back with series three of his podcast. This summer, Joe will be speaking to inspirational friends and some of his favourite people to ask them what they do to keep themselves feeling mentally and physically strong in the face of life's little challenges. It might be starting the morning in an ice bath or cosying up with a good book; every guest will share the one thing that works for them in the hope it might inspire you to try something new.
Joe's guests this week are David and Stephen Flynn, AKA The Happy Pear. These two identical twins from Ireland are on a mission to get everyone to eat more fruit and veg. Dave and Steve were the archetypal rugby-playing jocks with an eye on financial success, but after some time spent travelling and reflecting on life, they jointly embarked on a veg revolution! They opened a greengrocers in 2004 in their hometown of Greystones, a small town south of Dublin. Cafes and shops followed, and their online courses and recipes saw them become internet stars. They're a real bundle of energy these two, always moving and trying new things. They talk to Joe about their daily sea swims, the importance of community as the root of happiness, and what they do when the chips are down. There's even time to coach Joe on how to do the perfect handstand!
This is sunshine in a podcast. Joe Wicks is here for you, and he won't stop until you're fit and happy.
Producer: Toby Field
Editor: Dimitri Houtart
A BBC Audio Bristol production for Radio 4
Podcast
Joe Wicks shares the secrets of what's going to make you mentally and physically strong.