Main content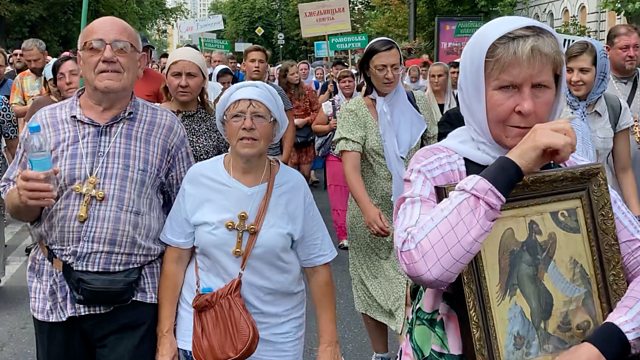 Kyiv march: 'Eucharist is our vaccine'
Orthodox Christians marched through Kyiv in spite of Covid restrictions, to celebrate Vladimir the Great adopting Christianity. So will it prove a Covid super-spreader event?
This week tens of thousands of Orthodox Christians marched through Kyiv, despite coronavirus restrictions, to mark the anniversary of Vladimir the Great adopting the Christian faith. Myroslava Petsa of BBC Ukrainian reported from the march and tells us why it was so controversial this year.
For the love of dancehall
Egyptian Yara Saleh turned her back on a prestigious career as an oil engineer to devote her life to dance. Specifically to dancehall, a genre that originated in Jamaica. She's now choreographing routines and introducing dancehall to fellow Egyptians, as Rana Taha found out for BBC Arabic.
Our Ancestors
BBC Indian languages are running their second Humari Purakhin, or Our Ancestors, season, celebrating India's female pioneers. This season focuses on marginalised communities, and BBC Marathi's Anagha Pathak chose the first recorded Dalit headmistress and feminist, Jaibai Chaundray.
Discovering the world's largest sapphire
A Sri Lankan man became fabulously wealthy overnight after finding the world's largest star sapphire while digging a well in his garden. It is estimated to sell for $100 million. The BBC's Anbarasan Ethirajan in Delhi has followed the story.
From bans to Olympic medals: Brazil's skateboard journey
Brazil's Olympic skateboarders are being hailed as heroes with their medal success in Tokyo. But skateboarding was banned in many Brazilian cities in the late 1980s. Thais Carrança of BBC Brasil tells us about the skateboarders of Sao Paulo, and the new mayor who gave them back their freedom.
Image: Worshippers in the streets of Kyiv
Credit: BBC