Main content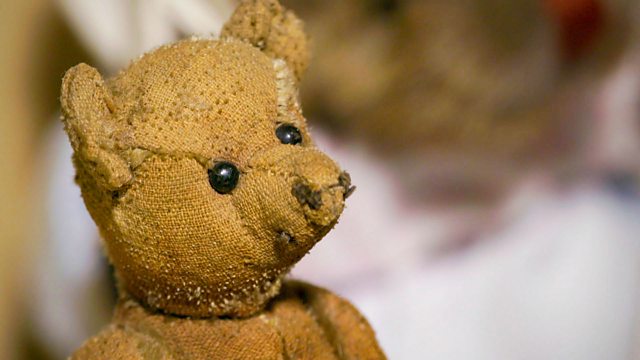 Some of the largest paintings ever seen at the V&A are unveiled, Manuel's costume from Fawlty Towers goes on show, and the museum's oldest
teddy bear has a special visitor.
As the V&A's Museum of Childhood in east London prepares to undergo a major refurbishment, its collection of over 30,000 toys and games must be packed away - including the museum's oldest teddy bear, the 111-year-old Little Tommy Tittlemouse. Curator Will must ensure its good condition before it can be put into storage.
With the V&A preparing for a new exhibition on the art of Iran, curator Tim hopes to display some of the longest artworks ever unveiled at the museum: three ten-metre-long replicas of the painted interiors of mosque domes from central Iran, dating from the 1850s and created by local Iranian craftsmen. After more than a century in storage, these vast objects need extensive conservation, but conserator Nicola has only 16 weeks before the they are installed.
In the Jewellery Gallery, curator Clare has two new pieces she is hoping to add to the collection. The first is known as the Vulcan ring, made by contemporary British designer Emefa Cole as part of a series inspired by the power and majesty of volcanoes, while the second is the Peony Brooch by Taiwanese designer Cindy Chao, fashioned from 105 large oval rubies held in purple titanium.
In the British Galleries, curator Simon has found the perfect object for the Laughing Matters display, which celebrates the history of Britain through comedy: the costume worn by Andrew Sachs in Fawlty Towers. The outfit is being donated to the museum by Sachs's daughter Kate, who recalls memories of visiting her father on set and reflects on how her father's own immigrant background escaping from Nazi Germany in 1938 would have informed his portrayal of Barcelonian waiter Manuel.
Credits
| Role | Contributor |
| --- | --- |
| Director | Simon Lloyd |
| Director | Matt Kennedy |
| Producer | Jyoti Mehta |
| Producer | Ekta Walia |
| Line Producer | Laura Miller |
| Production Coordinator | Gabriel Kizilbash |
| Series Producer | Catey Sexton |
| Executive Producer | Alistair Pegg |
| Executive Producer | Edmund Coulthard |
| Production Company | Blast! Films |