Main content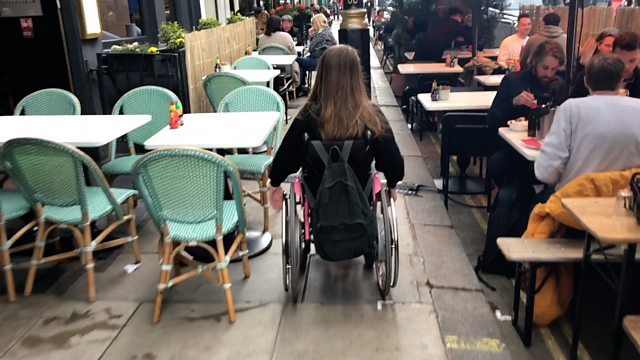 'I couldn't get my wheelchair through Soho on Friday night'
Wheelchair user Katie Pennick told 5 Live about her struggle to get through pavement cafes and restaurants in London.
A woman's attempts to get her wheelchair through busy pavements full of outdoor seating in London has gone viral.
Katie Pennick, campaign lead for the charity Transport For All, said she couldn't get along parts of Soho due to tables, rubbish and barriers.
A lot of hospitality businesses have been given temporary permission to extend their outdoor seating due to coronavirus restrictions.
Katie's video has been viewed more than a million times.
She told BBC Radio 5 Live presenter Nicky Campbell she has a very small wheelchair but still struggled to get through Soho.
"There were some pavements that I couldn't get through at all," she said. "I was thinking, if I'm struggling, anyone with a larger wheelchair or perhaps with a buggy or shopping or children or visually impaired people with guide dogs is really going to struggle to get through these spaces."
In a statement, Westminster City Council said its city inspectors regularly check and respond to accessibility problems.
"We want to reopen our city to everyone after weeks of lockdown, and we're sorry to see Ms Pennick's experience. We will respond to any accessibility issues identified in Soho and we will use feedback from Ms Pennick and other wheelchair users to improve access in the area."
This clip is originally from 5 Live Breakfast.
Duration: