Main content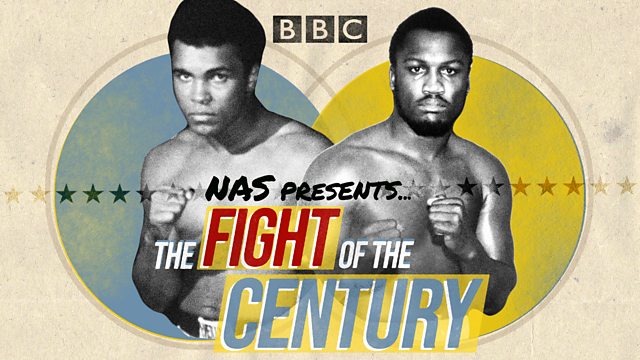 Ep 6: March 8th '71
After years of insults, jibes, bitter blows and taunts, Muhammad Ali and Joe Frazier step into the ring at Madison Square Garden for The Fight of the Century.
March 8th '71: Nearly four years after they first met in 1967, the eyes of the world are on a small, illuminated square of canvas in New York's Madison Square Garden as Muhammad Ali and Joe Frazier get ready to go toe to toe.
For the first time two undefeated heavyweights will fight for the title, but only one will leave the ring as the undisputed heavyweight champion of the world. In one corner is Muhammad Ali, 'The Greatest' and a man who put his career, life and reputation on the line for his beliefs. He risked jail and lost over three years of boxing while 'in exile'.
In the opposite corner is Smokin' Joe Frazier, the hard-hitting former abattoir drain man who grew up in poverty but put in the hard yards, graft and work to drag himself to the top of the world. Each fighter is guaranteed $2.5 million, but this is so much more than about the money, this is history in the making,
A four-year journey of taunts, jibes, jokes, miles, bitter blows, clashes and sweet victories brings us to this moment - 10.30 pm, March 8th, 1971. The place is packed with celebrities all craning for the best view of the scheduled 15 rounds of championship boxing, but you have the best seat in the house. So, are you ready?
Let legendary, Grammy award-winning hip-hop star Nas take you ringside for one of the most momentous sporting events of all time. The Fight of The Century - Ali v Frazier.
======
Credits:
Presenter - Nas
Producer - Mark Sharman
Writer - Ayad Andrews
Drama Producer - Owen Lewis
Executive Producer - Phil Critchlow
Executive Producer - Nas
Drama Recording - Jerry O'Riordan
Sound Design - Micky Curling
Original Music - Owen Parker
Production Assistant - Gabby Morris and Sera Baker
Drama Assistant - Maia Henderson
Casting Director - Emma Hearn
Archive Producer - Clare Hamman
US Production - Dave King
Music Production - Simon Hodge
ACTORS
Trevor Dion Nicholas
Aaron Pierre
David Menkin
Courtney Winston
Tomini Babs
Evlyne Oyedokun
Jennifer Armour
Earl R Perkins
Clinton Liberty
Philip Desmeules
Jose Palma
Finbar Lynch
A TBI Media Production for BBC Sounds.
Podcast
Hip hop legend Nas recounts a sporting event that changed the world forever.