Main content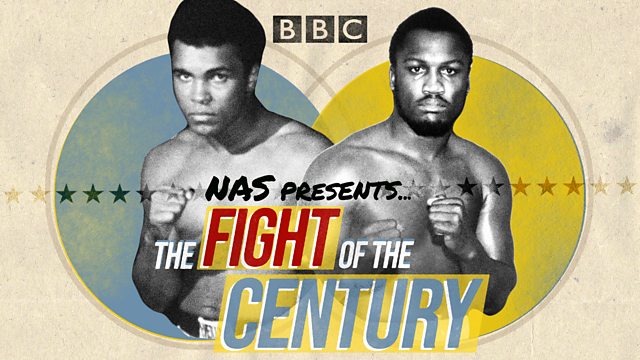 Ep 3: 1969 - The Super Fight
Banned from boxing due to his stance on the Vietnam War, Ali receives an unusual offer to make some cash. Meanwhile Joe has to deal with Ali's 'skylarking'.
As America prepares to put a man on the moon, Muhammad Ali is still banned from boxing and needs to find other sources of income.
One unusual offer of cash comes from producer Murray Woroner and his idea for a 'Super Fight' between Ali and heavyweight legend Rocky Marciano. The idea fits perfectly into the age of space travel.
Woroner will use a 'super computer', stacks of information and statistics to work out who would win in a fight between Ali and the long retired Marciano, a fighter who finished with an unblemished record of 49-0. Once the computer has come up with result, the plan is for Ali and Marciano to recreate the event for a film that will be released across the globe. But who will win?
Meanwhile, Joe Frazier is attempting to build his reputation as the man to beat with more fights in '69. But with no prospect of taking on Ali, can he be seen as the real champion? Everywhere Joe turns Ali seems to be there, and now it's becoming a problem.
With words, music, archive and drama, legendary Grammy award-winning hip-hop artist Nas takes you on the journey to 'The Fight of The Century - Ali v Frazier'
======
Credits:
Presenter - Nas
Producer - Mark Sharman
Writer - Ayad Andrews
Drama Producer - Owen Lewis
Drama Recording - Jerry O'Riordan
Sound Design - Micky Curling
Original Music - Owen Parker
Production Assistant - Gabby Morris and Sera Baker
Drama Assistant - Maia Henderson
Casting Director - Emma Hearn
Executive Producer - Phil Critchlow
Executive Producer - Nas
ACTORS
Trevor Dion Nicholas
Aaron Pierre
David Menkin
Courtney Winston
Tomini Babs
Evlyne Ovedokun
Jennifer Armour
Earl R Perkins
Clinton Liberty
Philip Desmeules
Jose Palma
Finbar Lynch
A TBI Media Production for BBC Sounds.
Podcast
Hip hop legend Nas recounts a sporting event that changed the world forever.