Main content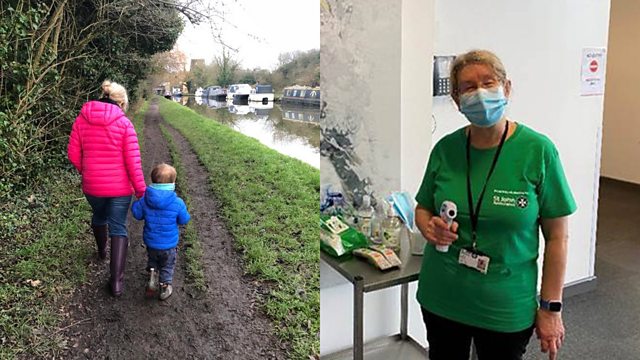 Vaccine hub volunteer: 'It's a privilege to be involved'
Barbara, 62, tells BBC Radio 5 Live what it is like volunteering at a vaccination hub.
BBC Radio 5 Live has been speaking to people at an NHS vaccination hub in St Helens - based at the stadium of the town's famous rugby league club.
Barbara Hatton from Parbold, near Wigan, has been volunteering her support to the mass vaccination centre at the Etihad stadium in Manchester, and is now giving her time to help at the Merseyside hub.
The 62-year-old told BBC Radio 5 Live Drive the people arriving to get their jab "are so excited" that this is "their first step on their journey back to normality."
She has been greeting people and putting them at ease as they arrive, helping to screen visitors before they get their vaccine, taking their temperature and directing them to the correct check-in desks.
Barbara said: "It's been a privilege to be a part of" and is hoping the vaccine programme will mean she can be reunited with her grandson soon.
"I was looking after my grandson prior to all of this last year, I was going down to London every week and obviously that's not been happening.
"I missed his Christmas, I missed his birthday the other week, so it will be great to see him again."
This clip was originally broadcast on BBC Radio 5 Live Drive on Thursday 25 February 2021.
Duration: