Main content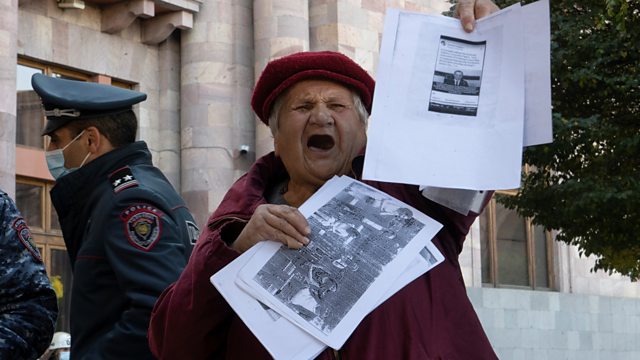 'Fragile' peace deal agreed over Nagorno-Karabakh
Armenia and Azerbaijan have signed a peace agreement - brokered by Russia - to end the six week military conflict in the disputed region of Nagorno-Karabakh. Thousands of soldiers are believed to have died in the fighting, as well as some civilians.
The region is internationally recognised as Azerbaijani, but has been run by ethnic Armenians since 1994.
Under the deal, which Armenian Prime Minister Nikol Pashinyan called 'incredibly painful', Azerbaijan will hold onto areas of Nagorno-Karabakh that it has taken during the conflict and Armenia will withdraw from several other adjacent areas over the next few weeks. In the Armenian capital, protesters reacted with fury, invading the parliament building and beating the speaker.
This is far from the first ceasefire - so will this one hold?
We got the assessment of Paul Stronski, a senior fellow at Carnegie's Russia and Eurasia Program in Washington.
(Photo: Protester in Yerevan, Armenia. Credit: Reuters)
Duration:
More clips from Newsday