Main content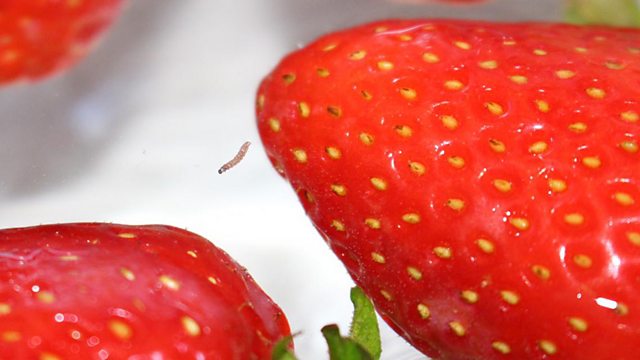 Do worms live in strawberries?
A TikTok trend has discovered that some strawberries may have worms living inside them.
A series of videos on the social media platform showed small bugs, which look like worms, crawling out of the fruit when soaked in salt water.
The 5 Live Drive team tested this, and after 30 minutes, a tiny bug emerged from one of the strawberries!
However entomologist Dr Ian Bedford told Anna Foster that eating these bugs "will not do you any harm".
Dr Bedford explained that this particular bug was a maggot of the spotted wing drosophila - a fruit fly which came into Britain in 2012 from Southeast Asia.
He added that this species is known for laying its eggs onto developing fruit, such as a crop of strawberries and because they do not hatch until the strawberries mature, you cannot tell the bugs are there.
This clip was originally broadcast on 5 Live Drive on Thursday 25 June 2020.
Duration:
More clips from In Short