Main content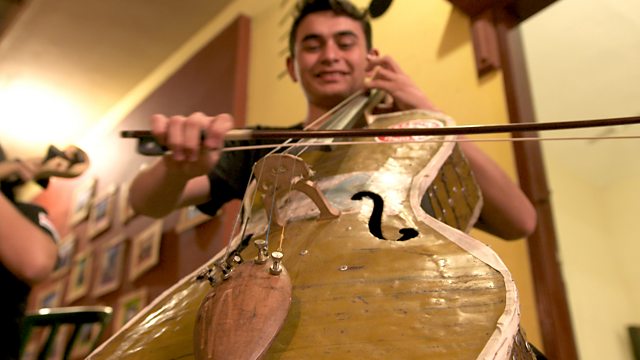 What we can do with our waste
The Recycled Orchestra of Paraguay, and Sweden's waste-to-energy plant: two very different uses for some of the world's household rubbish.
Every year we produce over 2 billion tonnes of solid waste worldwide. Most of it ends up in dumps or landfills, or is thrown into the oceans, or is burned. Only a small fraction is ever recycled. But are there other, more creative uses for all that rubbish? To try and find some answers, BBC Mundo reporter Lucia Blasco visits Paraguay to meet the inspiring young musicians of the Recycled Orchestra of Cateura, whose instruments are made out of rubbish from the city's main landfill; and she travels to the city of Linköping in southern Sweden, where almost all the houses are heated by energy produced by incinerating waste.
This documentary is airing as part of Life Changes, a series of programmes and features across the BBC's global TV, radio, social and online networks exploring the theme of change - how we change ourselves, our lives, and how we respond to changes in the world around us. Reporting from across the world - from Ethiopia, Korea, Rwanda and Paraguay to Egypt, the US and Russia – the documentaries and digital stories will cover a diverse range of topics, from sexuality to sustainability, from peace to war, and from neurodiversity to migration.
Featured in...
Stream or download documentaries following lives that have taken unexpected turns
Podcast
Download the latest documentaries investigating global developments, issues and affairs