Main content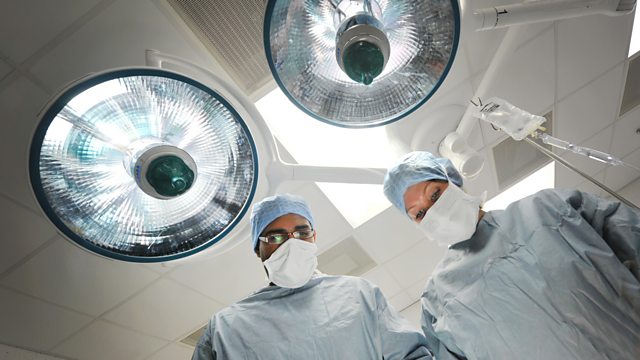 Code Red
With knife crime at an all time high, James Gallagher explores the innovation in trauma science - Code Red - that's saving the lives of bleeding trauma patients.
Eddie was set to become another statistic, another teenager killed by rising levels of knife crime.
But Eddie's life was saved by the new field of trauma science. It is revolutionising the way people are treated after shootings, traffic accidents or any injury that causes catastrophic bleeding.
The doctors that pioneered the work call it Code Red. Your chances of surviving major bleeding are now higher than ever before.
So what changed? Quite simply trauma medicine has been turned on its head. Before 2007, doctors would have treated Eddie's catastrophic bleeding by trying to replace the fluid leaking out of his stab wounds. Salty water, called saline, and just one component of our blood – the oxygen carrying red blood cells – would be put back into Eddie's body - in what's called a massive transfusion.
It seemed like a good idea. Keep the blood pressure up, keep oxygen moving round the body and keep the patient alive. But that's not what happened - around half of people died on the operating table. The principles were wrong. They were damaging the body's natural way of stemming blood loss – clotting.
It was around 2003 that the ideas behind the Code Red protocol started to take shape. The poster child of the new field of trauma science was revealing the vital role of clotting. Karim Brohi, Professor of Trauma Sciences at Queen Mary, University of London, discovered that major trauma could disrupt the blood's ability to clot within minutes of the injury, and patients affected were more likely to die. What's more, saline was diluting the blood and making the bleeding worse.
Over a decade ago, the Royal London Hospital decided to do something radical. It introduced Code Red, also known as damage control resuscitation, and shifted the focus from blood pressure to blood clotting - get blood products into patients to get on top of any abnormalities there first.
Making that happen took a huge culture shift. This is not a normal research environment. There's no time to ponder, patients are hovering between life and death; and every second counts. But now the innovation has been accepted across the NHS, and recent research reveals a massive drop in the death rate of patients with catastrophic bleeding.
Producer: Beth Eastwood