Main content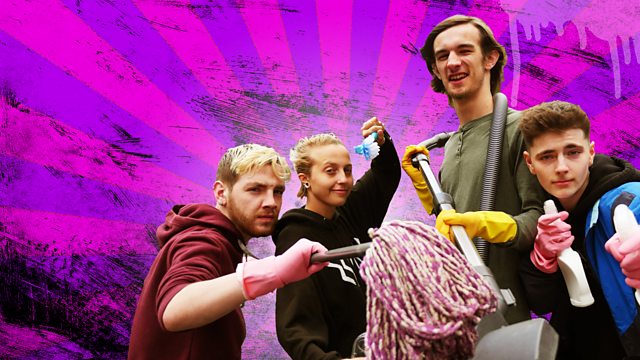 Fight Dirty
Pitting two teams of extremely mucky housemates against each other to win a cash prize. But there's a twist – it's not their own houses they will be cleaning, it's each others!
A new show that pits two teams of extremely mucky housemates against each other. They have just five hours to clean up their filthy homes, with the biggest improvement winning a cash prize of £1,000. But there's a surprise twist – it's not their own houses they will be cleaning, it's each others.
In Belfast our first team are the Party Boys, Matthew, Lorcan, Gavin and Ronan. These four students love to throw mad parties, but can't be bothered to clean up afterwards. Their opponents in this grubby battle royale are the Partners in Grime, two happy couples who love to love, but not to clean. Sarah and Jordan share the baddest bedroom in Belfast, while Paddy and Ciaran eat romantic meals in a fly-infested kitchen. They're given some basic cleaning instructions and equipment, but how they take on the task is totally up to them.
The Partners in Grime have to take on the horrors of their competitor's terrible toilet, where a dodgy Mexican meal eaten by Ronan means it's been blocked for weeks. Paddy takes one for the team when he decides to clean the outside of a window 20 feet in the air, and, worst of all, all four have to work out how to unblock a sink full of week-old vomit.
Meanwhile, the Party Boys face a mountain of rotting takeaways, a toxic spaghetti carbonara, and what appears to be a never-ending collection of empty Buckfast bottles. They also uncover the most disgusting underpants in Northern Ireland, try to solve the mystery of why Jordan has seven mobile phones in his room, and find that the cleanest thing in the house is a uniquely revealing book.
As well as some truly jaw-dropping filth, along the way there are some top cleaning hacks, like using cola to clean a vile toilet and why damping down mould before scraping it off could save your health. There's also a special tip from our very own grime artist. If there's one thing she likes more than grime music, it's actual grime, and she has written a track that tells you how to clean your mouldy shower using the power of slugs. Seriously.
After five hours of frantic cleaning, who will be left holding a wet sponge, and who will be heading down to the pub with £1,000 in beer money? This contest really is win-win: the triumphant team get the cash while the losers return to the cleanest home.
Music Played
Timings (where shown) are from the start of the programme in hours and minutes
00:02

The Shamen

Boss Drum

00:04

Mason

Dance Shake Move (Original Mix)

00:05

Darude

Sandstorm (Original Mix)

00:06

Shift K3Y

Entirety (feat. Ame)

00:20

The Shamen

Ebeneezer Goode

00:25

Wretch 32

Unorthodox
Credits
| Role | Contributor |
| --- | --- |
| Narrator | Jordan North |
| Director | Ronan McCloskey |
| Director | Marty Stalker |
| Producer | Ronan McCloskey |
| Producer | Marty Stalker |