Main content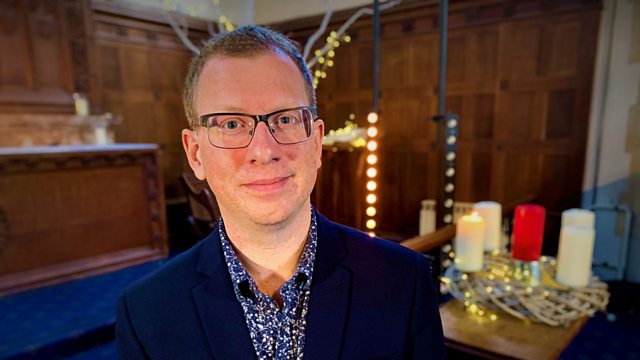 The Meaning Of Advent
Christian author and Christmas expert Paul Kerensa explains the meaning behind the Advent season.
What exactly is Advent? 'Christmas Expert' Paul Kerensa has been telling Songs of Praise about some of its meaning and customs.
Advent is from the Latin adventus, which pretty much means 'coming soon'. We know it was celebrated from at least the fifth century and for a while it was a time of fasting ahead of feasting, and it even started as early as November 11th. By the 20th Century Advent had become less a time of abstinence and more a time of reflection and preparation and, of course, munching of chocolate.
Advent Wreaths
One of the most popular advent customs is the use of wreaths, which first began in 1839 and like so many great modern-day Christmas customs this came from Germany. Many Advent wreaths are made from evergreens: with holly, ivy, mistletoe as particularly Christmassy flavours. They're a symbol of life after death, of everlasting life, of triumphing over nature.
Nowadays the traditional advent wreath includes four Advent candles for each of the four Sundays leading up to Christmas. Different churches have different colours, for example purple as a sign of penitence, building up to a pink candle which is for rejoicing. On Christmas Day a fifth central candle is lit. In some churches this is white, in some others it's red.
Advent Calendars
We can trace Advent calendars back to at least the 1850s and in German households they were very popular, beginning as pictures hung on a wall before they became miniaturised. And it was thanks to Gerhard Lang from Germany who particularly enjoyed the calendars that his mum used to make him as a child, with sweets in a box and sometimes cookies and a little Bible verse and some pictures. Lang mass produced them from the very start of the 20th century. The addition of chocolate came mainly after the Second World War after rationing had stopped.
An Advent Carol
Christians believe that true 'Advent' is about that which is 'coming soon', God's tangible intervention here on earth. One beautiful Advent carol - technically different to a Christmas carol – is 'O Come O Come Emmanuel'. It's based on the great O's as they're known - antiphons, or words of praise that are sung in prayer, in vespers traditionally. Examples are 'O wisdom, O Lord, O Emmanuel'. In those prayers, Christians are crying out, saying "God With Us (the meaning of 'Emmanuel'), we need you here, we need you intervening with us on earth. Until you are here, we're going to keep lighting the candles and counting the days."
Paul Kerensa is author of 'Hark! The Biography Of Christmas'
Duration:
More clips from Advent

More clips from Songs of Praise