Main content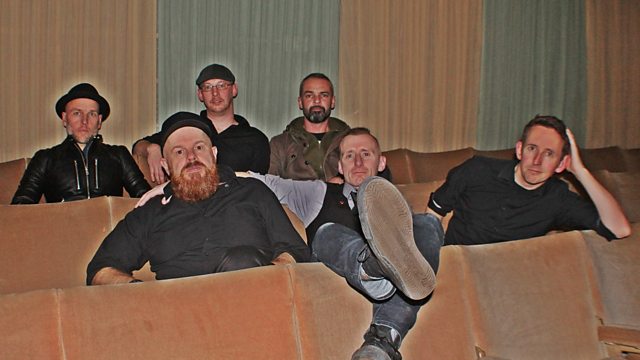 Andrew Marston introduces The Whipjacks (Worcester)
Unsigned, undiscovered & under-the-radar music, as recorded at the Conquest in Bromyard.
• Talking about the new biopic on Hay-on-Wye music mogul Alan McGee currently being made by Danny Boyle and Irvine Welsh.
• Our Artist of the Week is a Worcester sound engineer who travels the world making others sound amazing. But you should check out the recordings he made in his flat!
• More of your memories of the Malvern Winter Gardens as we hear from the person that controlled the purse strings.
• When they hit the stage it's time to raise your drink and try not to spill it on your mates - part two of our live session from Worcester 'speed folk' band The Whipjacks.
Music Played
In session

Artist of the Week
In session
"Pounding drums, driving bass and screeching guitar fit hand-in-hand with melodic mandolin, partial nudity and attitude filled lyrics" - that's how Worcester band The Whipjacks describe themselves!
 
When they hit the stage it's time to raise your drink and try not to spill it on your mates, which is easier said than done.
 
They are a five-piece band that play their own brand of 'speed folk' - and you may have caught them at Nozstock, Mello and Lakefest.
 
"A great fun-time band with wonderful tracks that will have you dancing on every surface!" - Andrew Marston
 
Riots, Raves and Running a Label
Trainspotting duo Danny Boyle and writer Irvine Welsh are reuniting to bring music mogul Alan McGee's biography to life on the big screen.
 
Based on The Creation Records Story: Riots, Raves and Running a Label, it will tell the story of the Hay-on-Wye man who signed Oasis and Primal Scream.
 
Directed by Nick Moran, the film will also star fellow Lock, Stock and Two Smoking Barrels actor, Jason Flemyng.
 
BBC Music Introducing in Bromyard
This month's sessions come from the Conquest Threatre in Bromyard.
 
If you've only ever driven through the town before, the venue is on what we like to call 'Nozstock Street!'.
 
The theatre has now been hosting events at its Tenbury Road location for a quarter of a century - but they'd been campaigning for a facility like this since the '50s, according to the records book.
 
Originally, events had been held in an 'old tin hut' which had been built in 1919 by the Royal British Legion. But eventually they decided an all-singing, all-dancing venue was what the town needed.
Artist of the Week
After moving to Worcester, last year, Nick Allan started working on new recordings and playing under the name 'Northern Fir'.
 
He recorded the majority of his first EP in his flat, last winter, and self-released it on CD Baby.
 
Travelling the world as a sound engineer, he knows a thing or two about how to make things sound like they weren't recorded in a living room!
 
He says his music has an intimate and easy listening vibe, influenced by folk, indie rock, acoustic and Americana.
Malvern Winter Gardens
Malvern is well known for its classical connections, but many people are unaware of the town's other musical story.
 
From the early '60s, for a period of around 30 years, Malvern Winter Gardens rocked to the sounds of bands such The Jam, The Kinks, The Who, Pink Floyd, Motorhead, Hawkwind and many more, some of whom were in their infancy at the time.
 
Local charity Rock Around the Hills created an interactive exhibition, thanks to a £60,000 grant, celebrating the story of rock, punk and progressive rock at the Winter Gardens from 1961 to 1990.
 
The display features more than 400 posters, tickets, flyers and fanzines, as well as recorded memories from audience members, musicians and promoters who were all part of the scene.
 
Having already been at Malvern Library and the Hive in Worcester, the exhibition has now moved to the airwaves - and we're broadcasting some of those memories every Sunday, from 6pm, here on BBC Hereford & Worcester.