Main content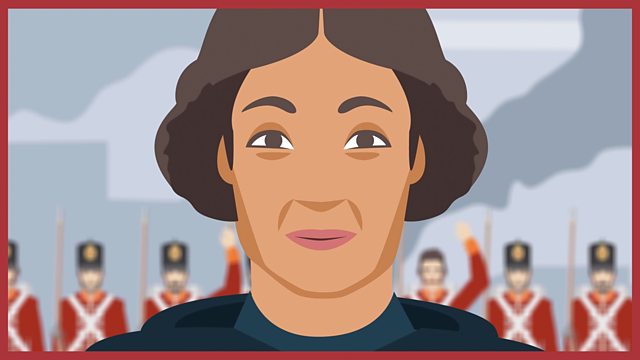 Black History Month - Mary Seacole
Assemblies KS2. Black History Month - Mary Seacole. Discover the extraordinary life of Mary Seacole and her time in the Crimea during the Crimean War of 1853 - 1856.
This single episode exploring the life of Mary Seacole is taken from the three episodes available in the History section of the website. It covers Mary's journey from the Caribbean to the Crimea via the War Office in London. It charts her rise from initial rejection as a nurse by the War Office to becoming a favourite of the British troops in the Crimea, who give her the name 'Mother Seacole'.
The events of Mary Seacole's life were recorded by herself in her book 'The Wonderful Adventures of Mrs Seacole in Many Lands', written shortly after the end of the Crimean War in 1857. She was also written about by William Russell, a journalist working for the Times newspaper.
The video begins with Mary Seacole's origins in Jamaica and follows her to the War Office in London at the outbreak of war. When Mary is refused work as a nurse she arranges her own travel to the Crimea and uses loans from friends in London to build 'The British Hotel'. The 'hotel' is an establishment offering food and other comforts to the British soldiers but where Mary will also become responsible for providing care to wounded soldiers.
William Russell arrives and writes reports about Mary's work. She takes him near the battlefield where he asks her to confirm that she has treated wounded enemy soldiers as well as British ones.
The video ends with Mary's entry to Sebastapol after the fall of the city - cheered by the victorious British soldiers for whom Mary has become 'Mother Seacole'.
After the Crimean War Mary was to fall on hard times and lived in London in poverty until she was rediscovered by William Russell. He then led a campaign to remind the British people of Mary's actions during the War and effectively ensured her legacy.
In 2004 Mary was voted 'greatest black Briton' in an internet poll organised in response to the lack of black people in the BBC's 'Greatest Briton' poll.
In the video Mary refers to her desire to become a nurse working for Florence Nightingale. She also tells William Russell that if he wants to see a 'proper hospital' he should visit Florence Nightingale's hospital, which was based at Scutari in Istanbul - ie on the other side of the Black Sea from the Crimea. While 'The British Hotel' is clearly not a 'hospital' in the modern-day sense of the word Mary's acts of caring both there and on the battlefield are well documented.
Duration:
More clips from Assemblies KS2