Main content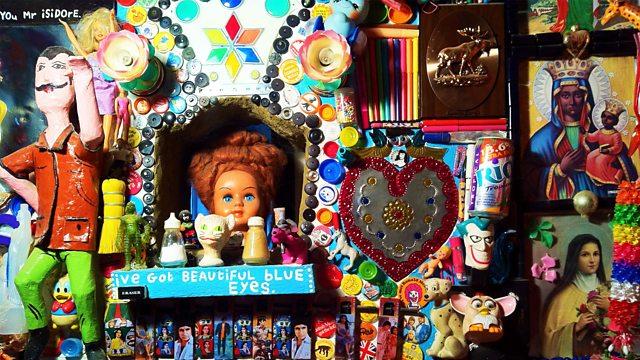 House of Dreams
Step inside the House of Dreams, the home of artist Stephen Wright, which he has transformed into a work of art reverberating with love, dreams, fantasies and past lives.
"I always say, it's my house - I'll do what I want. People choose to come into the house, that's fine by me, of course you're extremely welcome to come through the door, but when you come into my world it's my rules."
Step inside the House of Dreams...
Inspired by outsider art environments like Picassiette in Chartres, Palais Ideal in Hauterives, and the home of Bodan Litnianski, the artist Stephen Wright has been slowly transforming every inch of his East Dulwich home since 1998.
The surfaces inside and outside the house have been covered with found objects - broken dolls hanging from the ceiling, his parents' dentures cemented into the wall, photographs, records, discarded glasses, wigs and bottle tops. A riot of colour and texture, each object reverberant with past lives - the scent of old perfume on fabric, the marks of damage and use on a well-loved toy. The walls, floors and ceilings are also covered with hand-written 'memory boards' in black and white, detailing important events in Stephen's life. A life marked by painful loss and deep love.
"All of these [outsider artists] are fighting the world by doing this, that's what this is about... they are fighting the world. It's about imposing your own personality and your own vision on a world that is uniform."
Original music composed by Jeremy Warmsley
Produced by Eleanor McDowall
A Falling Tree production for BBC Radio 4