Main content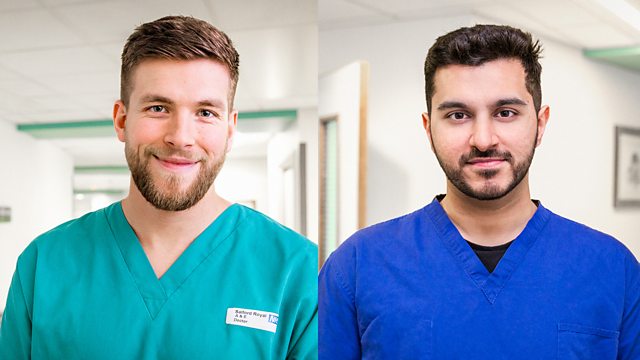 Howra must hold her nerve as she stitches a patient's skull together after brain surgery, and with a patient in severe pain it's time for Sofia to put
her training into practice.
As each week passes, the junior doctors are finally settling into their new roles. But they are now expected to take on more responsibility, and with that comes greater pressure.
Twenty-three-year-old Howra is on a night shift, covering ten wards with over 300 patients. Two hours into her shift she gets a crash call, meaning there's an emergency in the hospital that all doctors must attend. A patient originally admitted with a fractured skull has lost consciousness and is now in a critical condition. This is Howra's first crash call, and the pressure is on as she joins more senior colleagues at the scene.
Following the emergency, aspiring neurosurgeon Howra is put to the test again as she assists one of the hospital's leading neurosurgeons in major brain surgery. She is called upon to stitch up the patient's skull. It's the opportunity she's been waiting for, but can she rise to the challenge?
Just a few months since leaving medical school, Sofia, also on a night shift, is called to verify a death. Having known the patient for a while, it's a difficult and emotional task for the 24-year-old. Night shifts are relentless, and Sofia is put to the test again by a patient who is crying out in pain with his bladder at bursting point. Sofia recognises the symptoms and knows what needs to be done, but can she put what she has learned into practice?
Newly qualified Nick has taken a longer route into medicine and, despite his passion for the job, he is still finding his feet. After failing to catheterise two patients, he questions his ability when called to do a third. Over in the ear, nose and throat department, second-year junior doctor Luke is also feeling nervous about treating patients independently. When a patient comes in with a cyst on his ear, Luke is called to drain it, and it's his chance to prove he can carry out this delicate procedure. Will he step up, or will his nerves get the better of him?
With resources tighter and pressures higher than ever, working in a hospital is no mean feat. Our junior doctors are thrown in at the deep end as they take their training to the next level to find out if they have what it takes to be our doctors of tomorrow.