Main content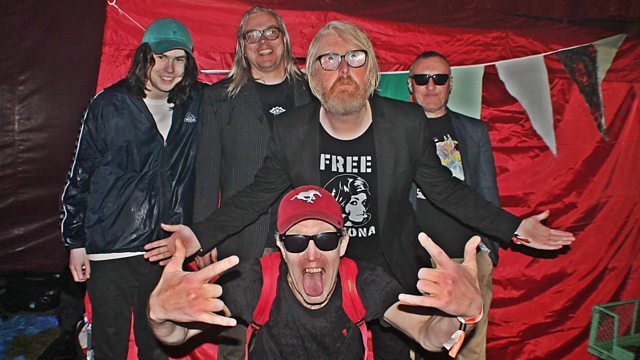 Andrew Marston introduces West Midlands (Kidderminster)
Unsigned, undiscovered and under-the-radar music, as recorded at Lakefest near Ledbury.
• Judge Jules and Peter Andre talk about breaking into the music scene after appearing at the Upton Festival.
• In this week's masterclass, we look at how you can make money by talking about music!
• Steve Norman of Spandau Ballet chats about his journey through music while at Lakefest.
• More highlights from Beermageddon at Stoke Prior Sports & Country Club, near Bromsgrove.
• Live music from the comedy rockers - and most ungoogleable name in the region - Kidderminster band West Midlands!
In session
West Midlands are a gang of "weird pop magpies cranking out paranoid punk jams and grimy power pop from a dank room on an industrial estate, 'round the back of PC World.
 
"Their debut EP is a supernatural indie rock concept record about a rapidly decaying musician, dropped by his label, forgotten by fans and forced to return to his childhood home in the Black Country to confront his demons – some of which, it turns out, are actual demons. It's sort of a documentary."
 
West Midlands frontman Andrew Wagstaff was raised in a "spooky village" outside Kidderminster. His musical education happened across the region, watching big hair arena shows at the NEC, grimy hardcore all-dayers in Birmingham and hard-to-find raves around the back of the Clent Hills.
 
Paying homage to the last forty years of the West Midlands music scene, his music is reminiscent to the "hammer horror heaviness" of Black Sabbath, the New Street new wave of Duran Duran, the chaotic clatter of The Swell Maps. There's a decidedly Dexy's chorus here, even a nagging Ned's beat there…
 
"The best live show I have ever seen on a BBC Music Introducing stage. Enough said." - Andrew Marston.
 
Lakefest Highlights: Steve Norman
Steve Norman was seen as somewhat of a musical virtuoso from an early age  - he joined a band in 1976 with Gary Kemp, Tony Hadley and John Keeble in 1976 who went on to become Spandau Ballet.
 
After the band went their separate ways in the early 1990s, Norman moved to Ibiza to take some much needed time off before playing live house music events across Europe, collaborating with a number of high profile musicians in the process!
 
We caught up with Steve, who was in charge of the backstage and VIP hospitality at this year's event.
BBC Music Introducing at Lakefest
Kaiser Chiefs, Happy Mondays, The Pigeon Detectives, James and Sophie Ellis-Bextor were all on the lineup for this year's Lakefest, at Eastnor Castle, near Ledbury.
 
BBC Hereford & Worcester also had tent at the festival, showcasing local talent from Herefordshire & Worcestershire. 
 
Hear all of the highlights throughout the whole of September on our BBC Music Introducing shows.
 
Upton Sunshine Highlights
The Upton Festival celebrated its 10th birthday in style, with a huge birthday bash featuring Scouting for Girls, Busted, Peter Andre and 10CC.
 
There were also performances from The Osmonds, S Club 7, Judge Jules and Dave Pearce.
 
Because we chatted to so many performers - getting their top tips for new musicians - we've got a whole month of coverage from the event!
Upton Sunshine Highlights: Judge Jules
Two simple words, but ones that resonate in the entire dance community – Judge Jules has been a pillar of the scene for many years – being named the Best DJ in the World by DJ Mag in 1995.
 
Since then he has gone on to DJ in some of the world's biggest clubs, as well as become an entertainment lawyer in the process!

This week, he breaks down what makes a 'club banger'.
Upton Sunshine Highlights: Peter Andre
Peter Andre although born in England grew up in Australia and shot to fame following the release of single 'Mysterious Girl' in the mid '90s, which reached number 2 in the UK singles chart.
 
An appearance on I'm A Celebrity Get Me Out Of Here in 2004 led to a marriage to glamour model Jordan and a whole host of television appearances.
 
He has released 12 albums over the course of his career and appeared on countless television shows!
Highlights: Beermageddon nr Bromsgrove
After seven successively sold out years, and having cemented the annual event as Britain's best 100% independent, 100% grass roots festival, Beermageddon returned for the eighth year over the August Bank Holiday weekend to Stoke Prior Sports and Country Club with three days of hard and heavy metal!
 
Or, as it said on their website: "Please note Beermageddon is loud and small children should have ear defenders!"
Musicians' Masterclass
So how do you cut through in today's noisy society?

While many use microphones to get their voices heard, others put pen to paper. 
So how can you make a living by talking about music? In this week's masterclass, we hear from: 
Joseph 'JP' Patterson - Senior Editor of Complex UK and Founder of TRENCH Magazine.
BBC 6 Music and Radio 3 presenter Elizabeth Alker.
Anna Codrea-Rado - a freelance writer for the New York Times, the Guardian and Wired.
The Independent's music correspondent Roisin O'Connor.
BBC 6 Music presenter Mary Ann Hobbs.
BBC Music Introducing in Bromyard
Our next recording session takes place at the Conquest Theatre in Bromyard on Sunday, 24 November from 7pm.
 
If you've only ever driven through the town before, the Conquest is on what we like to call 'Nozstock Street!'.
 
The theatre has now been hosting events at its Tenbury Road location for a quarter of a century - but they'd been campaigning for a facility like this since the '50s, according to the records book.
 
Originally, events had been held in an 'old tin hut' which had been built in 1919 by the Royal British Legion. But eventually they decided an all-singing, all-dancing venue was what the town needed.
 
We'd love to see you on the 24th - simply turn up, there's no need to book.