Main content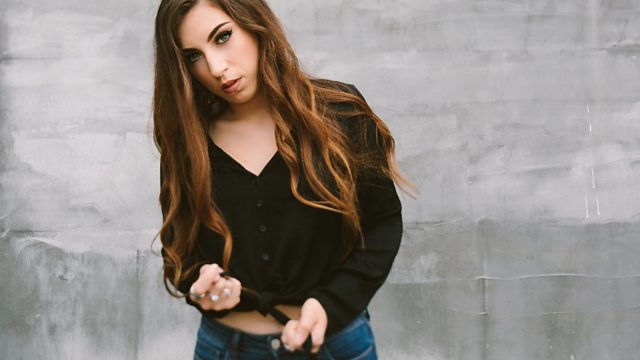 Andrew Marston with Sasha McVeigh (Hereford)
Unsigned, undiscovered and under-the-radar music from Herefordshire and Worcestershire.
• East 17 and 10cc reflect on their performances at the Upton Festival.
• Hereford's Sasha McVeigh is on, following her chart-topping success in America.
• We're at Stourport's newest pub - the latest venue to regularly host live music in the town.
• More highlights from Lakefest, including a visiting Australian band and Noah & The Whale.
• More of your memories of Malvern Winter Gardens.
Artist of the Week
Sasha has been somewhat of a mainstay on the radio this year, with her brand of country music delighting audiences on both sides of the pond.
 
She began writing music from the age of 10, and through her loyal fanbase has managed to finance her own EP campaign.
 
The Hereford singer has continued to tour between the UK and the US - where she has covered dozens of cities and 13 states!
 
Now living in Nashville, Sasha has recently been topping various charts stateside.
Upton Sunshine Highlights
The Upton Festival celebrated its 10th birthday in style, with a huge birthday bash featuring Scouting for Girls, Busted, Peter Andre and 10CC.
 
There were also performances from The Osmonds, S Club 7, Judge Jules and Dave Pearce.
 
Because we chatted to so many performers - getting their top tips for new musicians - we've got a whole month of coverage from the event!
Upton Sunshine Highlights: 10CC
Graham Gouldman has been the only constant member of 10CC after forming the band in the early 1970s.
 
Over the course of 23 years the band secured three UK top ten singles and five Top 10 albums with Gouldman responsible for co-writing some of the band's biggest tunes, including 'Dreadlock Holiday' and 'I'm Not In Love'.
 
As 10CC went through various different guises, Gouldman remained and has had a lasting impact on the British music scene. 
Upton Sunshine Highlights: East 17
East 17 go back a long way, originally forming in 1991 - and after a hiatus in the late 1990s - returned in 2006.
 
They have achieved 18 top 20 singles and four top ten albums, bringing a hip hop influence which certainly threw the cat amongst the pigeons given the slightly more vanilla pop of its day.
 
They are best known for the Christmas epic 'Stay Another Day' - not originally intended to be a Christmas song, but it has since gone on to sell more than million singles in the UK.
New pub
Two brothers from Stouport have swapped bathrooms for beer taps, as they follow their dream of opening a brewery and taproom.
 
Alex and Seb Vale have moved on from the family business, New Wave Bathrooms in Kidderminster, after their father Kevin died two years ago.
 
They've now opened the Brothers of Ale Brewery and Taproom in Stourport, which is the latest venue in the town to be hosting live music.
Lakefest Highlights: Matt Owen
Matt Owen played bass for Noah and The Whale, a band who defined the summer festival sound with hits such as '5 Years Time (Sun Sun Sun) and L.I.F.E.G.O.E.S.O.N
 
The band played sold out shows all over the world and collaborated with Laura Marling who was a one time member of the band.
 
He played several times over the weekend at Lakefest, including a number of VIP performances!
Lakefest Highlights: Round Mountain Girls
This week, we hear the incredible story of how an Australian band ended up headlining one of the stages of Lakefest. 
 
From humble beginnings in a shed atop an isolated outcrop, the Round Mountain Girls say they were brought together for pure musical gratification. With the attitude they bring to every performance, it's no wonder that they have carved out the reputation, as being one of the most thrilling live bands in Australia.
 
But the relationship began when the Roving Crows - who help organise Lakefest - needed somewhere to stay when they went to the Australian Music Awards. Returning the favour, Paul and Caitlin invited them to Herefordshire - and this was their second time visiting Eastnor.
BBC Music Introducing at Lakefest
Kaiser Chiefs, Happy Mondays, The Pigeon Detectives, James and Sophie Ellis-Bextor were all on the lineup for this year's Lakefest, at Eastnor Castle, near Ledbury.
 
BBC Hereford & Worcester also had tent at the festival, showcasing local talent from Herefordshire & Worcestershire. 
 
Hear all of the highlights throughout the whole of September on our BBC Music Introducing shows.
 
Malvern Winter Gardens
Malvern is well known for its classical connections, but many people are unaware of the town's other musical story.
 
From the early '60s, for a period of around 30 years, Malvern Winter Gardens rocked to the sounds of bands such The Jam, The Kinks, The Who, Pink Floyd, Motorhead, Hawkwind and many more, some of whom were in their infancy at the time.
 
Local charity Rock Around the Hills created an interactive exhibition, thanks to a £60,000 grant, celebrating the story of rock, punk and progressive rock at the Winter Gardens from 1961 to 1990.
 
The display features more than 400 posters, tickets, flyers and fanzines, as well as recorded memories from audience members, musicians and promoters who were all part of the scene.
 
Having already been at Malvern Library and the Hive in Worcester, the exhibition has now moved to the airwaves - and we're broadcasting some of those memories every Sunday, from 6pm, here on BBC Hereford & Worcester.
BBC Music Introducing in Bromyard
Our next recording session takes place at the Conquest Theatre in Bromyard on Sunday, 24 November from 7pm.
 
If you've only ever driven through the town before, the Conquest is on what we like to call 'Nozstock Street!'.
 
The theatre has now been hosting events at its Tenbury Road location for a quarter of a century - but they'd been campaigning for a facility like this since the '50s, according to the records book.
 
Originally, events had been held in an 'old tin hut' which had been built in 1919 by the Royal British Legion. But eventually they decided an all-singing, all-dancing venue was what the town needed.
 
We'd love to see you on the 24th - simply turn up, there's no need to book.