Main content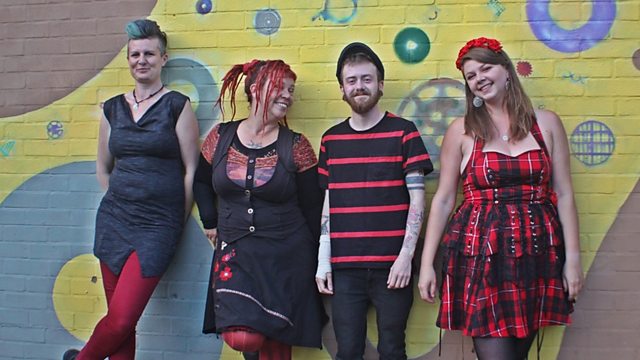 Andrew Marston introduces Muddy Summers & The DFWs (Ross-on-Wye)
Unsigned, undiscovered and under-the-radar music, as recorded at the Malvern Cube.
• We're at the Old Bush Blues Festival, which has been completely selling out ever since it moved to Worcestershire.
• Highlights from last weekend's Morton Stanley Festival in Redditch.
• More of your memories of the Malvern Winter Gardens as we continue to look at how it influenced an entire town.
• Highlights from the Pershore Jazz Festival, which took place at the college.
• Live music from the politically challenging and very amusing Muddy Summers & The DFWs, from Ross-on-Wye, as performed at the Malvern Cube.
Music Played
In session

Appeared at the Old Bush Blues Festival

In the Gig Guide
In session
Muddy Summers & The DFWs formed in Ross-on-Wye but are now scattered all over, with the founder of the band now living life on the road.
 
Together, they have the most wonderful biography that reads: "The musical melange draws in left-bank swing, Balkan gypsy dreamscape, jazz waltz fusion and cowgirl reggae-hop all bound together with sentient political verse with a razor edge that feels no need to growl before it bites."
 
At the front of all this is the ironic mellifluous voice of Gail Something Else, a vocal that resonates with tones of Dusty Springfield meeting Hazel O'Connor with a heap of warm gravel thrown in for good measure.
 
Their influences include politicians, rich folk, racism, sexism, fascism, homophobia, religion, royalty, life and death.
 
"Beautiful, quirky and humorous lyrics about life's little challenges in a must-see live show" - Andrew Marston.
 
Highlights: Morton Stanley Festival, Redditch
It's become a fixture on the Redditch calendar and Morton Stanley Festival returned, last weekend, to the park it shares its name with.
 
More than 12,000 people flock to this free two-day summer music festival, organised by the local council.
 
Republica headlined this year's event.
 
Some of the best talent coming out of Redditch also took to the stage.
Highlights: Old Bush Blues Festival near Worcester/Upton/Malvern
As the name suggests, this festival is all about blues music and is held over three days at The Old Bush in Callow End between Worcester and Malvern.
 
To accompany the blues line-up, this sold-out festival provided camping, cider and a BBQ.
Live coverage: Beermageddon, Stoke Prior nr Bromsgrove
After seven successively sold out years, and having cemented the annual event as Britain's best 100% independent, 100% grass roots festival, Beermageddon returns for the eighth year over the August Bank Holiday weekend with three days of hard and heavy metal!
 
As it says on their website: "Please note Beermageddon is loud and small children should have ear defenders".
 
They promise to be bigger and louder than ever before - so if you're planning on camping, don't expect to get much sleep!
Highlights: Pershore Jazz Festival
Pershore Jazz has grown from small beginnings to become a well respected part of the British jazz scene.
 
Whilst their regular jazz club tends to be more traditional, the festival provides scope for a much wider range of jazz appreciation and they feel that following only one particular style means missing a lot of 'good' music.
 
Pershore Jazz are a not-for-profit organisation run by an unpaid committee dedicated to the cause of quality jazz for all to enjoy.
BBC Music Introducing in Malvern
This month's live sessions come the Malvern Cube, which has undergone a huge transformation since last time we visited in 2013.
 
The Albert Road North venue is run by volunteers 'for the community, by the community'.
 
In 2012 the Cube was saved from closure by local people.
 
It's now a vibrant and welcoming centre with a busy cafe at its heart, hosting arts and entertainment, as well as being home to a thriving programme for young people and more than 30 community groups who offer a huge range of activities.
Malvern Winter Gardens
Malvern is well known for its classical connections, but many people are unaware of the town's other musical story.
 
From the early '60s, for a period of around 30 years, Malvern Winter Gardens rocked to the sounds of bands such The Jam, The Kinks, The Who, Pink Floyd, Motorhead, Hawkwind and many more, some of whom were in their infancy at the time.
 
Local charity Rock Around the Hills created an interactive exhibition, thanks to a £60,000 grant, celebrating the story of rock, punk and progressive rock at the Winter Gardens from 1961 to 1990.
 
The display features more than 400 posters, tickets, flyers and fanzines, as well as recorded memories from audience members, musicians and promoters who were all part of the scene.
 
Having already been at Malvern Library and the Hive in Worcester, the exhibition has now moved to the airwaves - and we're broadcasting some of those memories every Sunday, from 6pm, here on BBC Hereford & Worcester.
Features
In the news: The Worcestershire band performing a headline set at Reading and Leeds Festival.
BBC Music Introducing at the Worcester Music Festival
Our next recording session takes place on Sunday, 15 September at Annie's, in Worcester, as part of the Worcester Music Festival.
 
Annie's Burger Shack is one of the newest live music venues in the city, having already hosted 30 awesome gigs since it opened earlier this year.
 
The Worcester Music Festival was first staged in 2008 by Chris Bennion, who produces Worcestershire Sauce.
 
He set up a website called NotJustSauce - aiming to put Worcester on the map musically.
 
Taking place in multiple venues across the city, from pubs, clubs, restaurants and cafes to historic buildings, river cruisers, record shops, on the streets and even in breweries, the festival is absolutely free to attend with hundreds of gigs to choose from from some of the best, new and emerging artists in the UK.
 
You can find Annie's in The Courtyard pub on St Nicholas Street.