Main content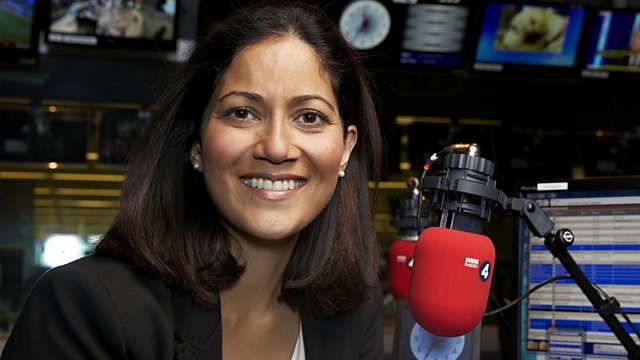 From Our Home Correspondent 21/07/2019
Mishal Husain presents pieces on a Yorkshire bridle path stroll, conflicts on water, allotments and mental health, industrialising berry farming and father-and-son role reversals.
Mishal Husain introduces dispatches from writers and journalists which reflect the range of contemporary life in the United Kingdom.
Writer and broadcaster, Ian McMillan, embarks on a high summer stroll along the bridle path that links his home with the post-industrial landscape of South Yorkshire, taking in a flattened colliery, a screaming mandrake, Peter Falk, the X19 bus to Barnsley and a magpie - or is it two?
Journalist and part-time canoeist, Bob Walker, embarks on a "Three Men in a Boat"-style progress on the river Wye - which for much of its course marks the border between Wales and England. He quickly finds out that, just as in Jerome K. Jerome's time, there is often ferocious competition among the different users of the water space for access. And money often lies at the heart of the wrangling...
With mental health issues finally commanding more attention at home, work and in society generally, Christine Finn returns to her home town of Deal to discover how those managing conditions are being helped by the use of allotments. Along the way, she realises that old-style denial of mental health problems had gone on much closer to home than she had previously thought.
As the nation's gargantuan appetite for soft fruit reaches its apogee, John Murphy journeys to the poly-tunnels of the garden of England to learn how this demand is satisfied and how berry farmers' costs may yet force radical changes to the way strawberries, raspberries, loganberries - and all the rest - reach our tables. He also hears how the poly-tunnels can be unexpectedly romantic locations.
And Ayo Akinwolere ponders how and when the relationship between fathers and sons alters, their roles invert and how well-prepared both are for the change.
Producer: Simon Coates
Podcast
BBC correspondents take a closer look at the stories behind the headlines.