Main content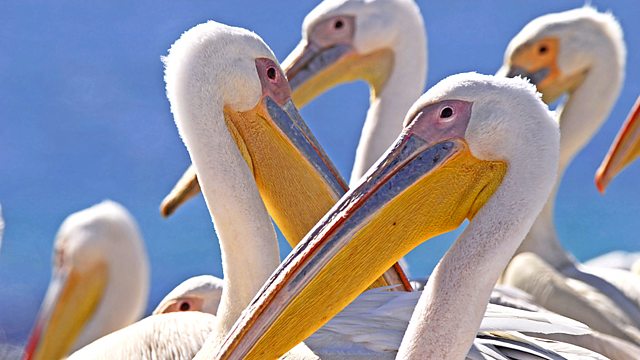 The nature documentary looks at birds and, with slow-motion cameras and aerial photography, reveals some of the extraordinary things that having feathers allows them to do.
Birds owe their global success to feathers - something no other animal has. They allow birds to do extraordinary things.
For the first time, a slow-motion camera captures the unique flight of the marvellous spatuletail hummingbird as he flashes long, iridescent tail feathers in the gloomy undergrowth. Aerial photography takes us into the sky with an Ethiopian lammergeier dropping bones to smash them into edible-sized bits. Thousands of pink flamingoes promenade in one of nature's greatest spectacles. The sage grouse rubs his feathers against his chest in a comic display to make popping noises that attract females. The Vogelkop bowerbird makes up for his dull colour by building an intricate structure and decorating it with colourful beetles and snails.
Last on
Chapters
Timings (where shown) are from the start of the programme in hours and minutes
Birds

An introduction to the feathered and winged creature. Also, the male Peruvian Hummingbird must use its unique tail feathers to prove his worth to a potential mate.

Duration: 04:42

Flying for Food

The adult Lammergeier swoops, the tropic and frigate birds do aerial battle, and red knots fly 10,000 miles, all in search of food.

Duration: 15:40

Nesting

A safe area is needed so flamingos can keep their offspring safe, and chinstrap penguins go to vast lengths to feed their young. Also, pelicans feed on gannet chicks whilst their parents are away.

Duration: 13:32

Impressing the Female

The Western grebes and Sage Grouse use dance to show their intent, whereas the Bowerbird uses architecture to find a mate. Also, the flamingos create a promenade which involves thousands.

Duration: 04:11

Life on Location - Hide and Seek

A closer look at the Vogelkop Bowerbird, and the diffiulties of filming the female in West Papua.

Duration: 10:33

Credits

| Role | Contributor |
| --- | --- |
| Narrator | David Attenborough |
| Executive Producer | Michael Gunton |

Broadcasts

BBC HD

&

BBC One

except Northern Ireland