Main content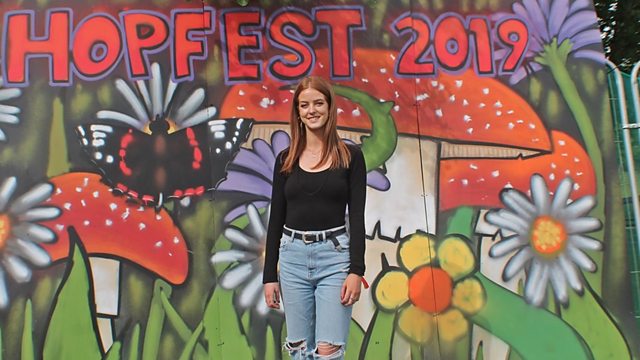 Andrew Marston introduces Lucy Angus (Evesham)
Unsigned, undiscovered & under-the-radar music, as recorded at HopFest near Bewdley.
• Looking back at last weekend's Upton Blues Festival, including how they inspire the next generation.
• Highlights from BretFest, which came to a close last weekend, featuring one of the longest running bands in the Midlands.
• Live music from Evesham singer/songwriter Lucy Angus, who learnt her craft on Broadway in the Lion King.
Music Played
Upton Blues Highlights

In session

Upton Blues Highlights

In session
In session
This week's live session comes from an Evesham singer/songwriter who's just finished her final year of university.
 
Lucy Angus has been writing songs since she bought her first guitar off a friend at the age of 14, and then taught herself how to play.
 
Alongside busking and performing in school concerts, she says she's learned from - and performed to - some of the best in Broadway, with workshops in New York.
 
Her first recording was thanks to an 18th birthday present - to visit a local recording studio - a track which led to us booking her to perform on our BBC Music Introducing stage at Hopfest near Bewdley.
 
"Beautifully delicate melodies delivered with intricacy and charm" - Andrew Marston.
Highlights: Upton Blues Festival
This event has grown each year and is now one of the largest free-admission festivals in the region.
 
Upton Blues has grown from a small gathering in a couple of pubs into a event that swamps the town with many thousands of music fans, two main stages, an acoustic stage and ten pubs creating more than 130 performances in three days.
 
Following independent research commissioned by Malvern Hills District Council, the festival is said to contribute more than £800,000 to the local economy every year.
 
But did you know the festival also raises money to help fund musical education in schools across the Midlands?
 
They also supply some of those schools with unwanted instruments, donated by festival goers and musicians alike.
BBC Music Introducing at HopFest
This month's sessions were recorded in the mud at the ninth annual HopFest, which took place in the riverside town of Bewdley, featuring tonnes of local bands.
 

We were there, on the Sunday, hosting a stage dedicated to Herefordshire and Worcestershire artists chosen from the 
BBC Music Introducing Uploader
. 
Highlights: BretFest nr Evesham
It's billed as "a fantastic week of arts, music & more - all based in beautiful Bretforton" and concluded with a Last Night Of The Proms.
 
This year, BretFest also brought music workshops to various locations in the village.
 
Picnic chair and tables were dusted down for the finale, featuring the Breforton Silver Band - who've been playing music for more than a century.
BBC Music at LakeFest, Eastnor Castle
Lakefest returns to Eastnor Deer Park in August this year and will be guaranteed to be even bigger and better than ever.
Kaiser Chiefs, Happy Mondays, The Pigeon Detectives, James and Sophie Ellis-Bextor are all on the line-up.
BBC Hereford & Worcester will also have a tent at the festival, showcasing local talent from Herefordshire & Worcestershire. 
For details of how to send your music in and to be considered for future events, visit bbc.in/hwcontact