Main content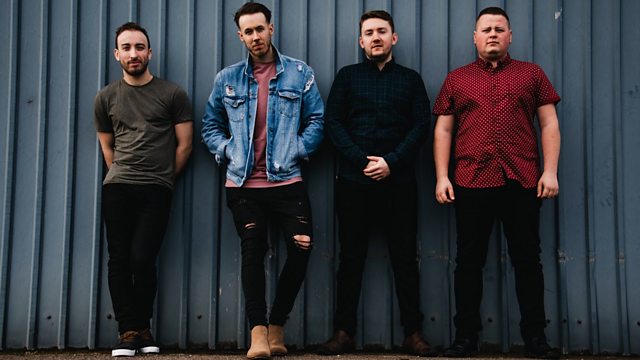 Andrew Marston introduces Highlite (Redditch)
Unsigned, undiscovered and under-the-radar music from Herefordshire and Worcestershire.
• Hearing from our local musicians playing Glastonbury.
• Soaking up the atmosphere at the Upton Jazz Festival.
• Revealing who'll be playing our next BBC Introducing live event - at the Malvern Cube.
• Giving away our birthday wishes to a choir who are off to the Old Smithy Recording Studios, near Worcester.
• Live music from the Redditch band Highlite.
Music Played
Appearing at the Upton Jazz Festival

In session

Appearing at our next recording session

In session
In session
Our live music, this week, comes from a band whose members are spread across the region, including Redditch, and say they all know each other from high school and love playing around the local area.
 
Scott, James, Matt and Jake form the band Highlite and have been lucky (and talented) enough to play many local gigs and festivals, resulting in a strong following.
 
Highlight performances include one of the main slots at Stratford River Festival (in front of 4,000 people), as well as number of gigs in Birmingham at venues such as the O2 Institute.
Playing Glastonbury
A viola player from Worcestershire has landed herself a spot on stage at Glastonbury.
 
22-year-old Tilly Chester, from Malvern, is a member of the British Paraorchestra which is a collection of talented musicians with disabilities.
 
They've performed on the Park Stage earlier today alongside musicians from both Radiohead and Portishead.
 
Other local artists include Hereford's Undercover Hippy and former student Olly Alexander with his band Years and Years.
27 - 30 June: The Upton Jazz Festival
Tens of thousands of people have been in Upton-upon-Severn, this weekend, as the annual jazz festival returned.
 
50 concerts will be played over the four day event, which concludes tonight.
 
Upton also hosts the annual blues, ukulele and folk festivals, across the summer, as well as hosting big name acts at Sunshine and Mello festivals.
Birthday Wishes
Back in February, to mark our 30th birthday, we launched an appeal for your birthday wishes.
 
We decided to give our birthday wishes to you and we aimed to make thirty come true.
 
It didn't matter how big or small, we just wanted them to make a real difference.  
 
We've been busy working away on the best ones and now summer's here, we've decided it's time to start granting them! 
 
One of the first to arrive was from Shirley Goddard who leads the VoxRox choir in Malvern.
 
She told us that many of the members of her choir have had tough times in their lives, but they've been brought together by music and singing.
 
Shirley said nothing would make her happier than for them to be able to record a track professionally - a treat they really deserve. And we're going to make it happen.
Features
In the gig guide: Looking ahead to Linton Festival, El Dorado at Eastnor, Ledbury Fringe and Woo Fest in Upton.
In the news: What Stormzy was doing in Redditch ahead of his Glastonbury headline set.
BBC Music Introducing in Malvern
At BBC Music Introducing in Hereford & Worcester, we support the very best new music from across the region.
 
Since 2005 we've broadcast around 1,500 sessions, helping to showcase some of our area's most talented musicians.
 
We've handpicked some of our favourite acts to join us on stage at the Malvern Cube on Sunday, 14 July from 7.30pm.
 
These artists didn't even know they were being considered – and we hope this inspires people to keep sending in their music, because we really do listen to everything.
 
Admission is free.