Main content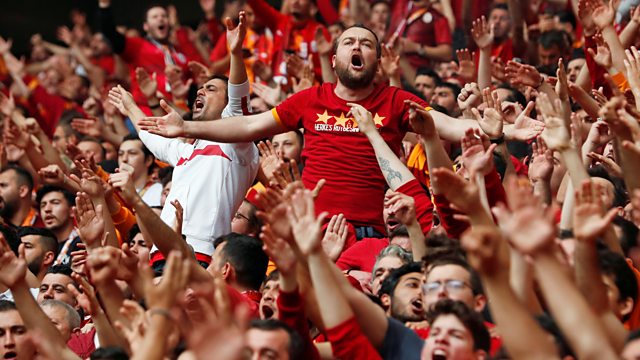 Turkey's political football
How has rivalry on the football field reflected the political divisions in Istanbul and Turkey as a whole?
Football in Turkey's biggest city always means colour, passion and noise, but this season has an added edge. The big three Istanbul clubs, which have generally had a vice-like grip on the Super Lig crown are this year facing a new challenger, another city club, Basaksehir. This club has been assembled with international stars thanks to the money of close business associates of the President Erdogan himself. The political symbolism of the title race has not been lost on many football fans in Istanbul, especially as the city prepares for a controversial re-run of Istanbul's Mayoral election in late June. Judges have just overturned the declared victory of an opposition candidate, thanks to ill-specified irregularities. There have been public protests over that decision. But then as President Erdogan often says: "He who wins Istanbul, wins Turkey". How has the rivalry on the football field reflected the political division of the city and the country?
Reporter/producer: Ed Butler
(Image: Fans at a Galatasaray home match, May 2019. Credit: Reuters/Murad Sezer)
Podcast
Download the latest documentaries Investigating global developments, issues and affairs.