Main content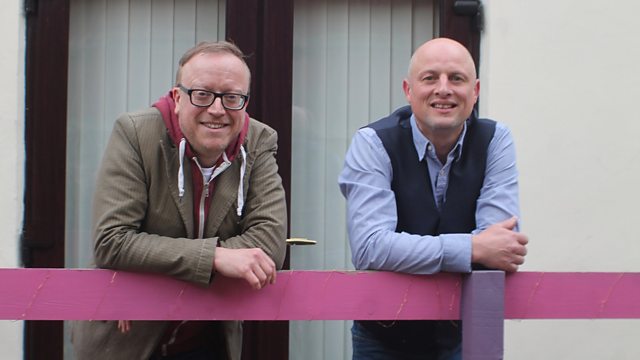 Andrew Marston introduces Badeye (Redditch)
Unsigned, undiscovered and under-the-radar music, as recorded at the Railway in Redditch.
• We're at Evesham's Under The Hill Festival.
• Heading down the road to Dubs In The Middle.
• Discovering why HowTheLightGetsIn had a 'fallow year' as it returns to Hay-on-Wye.
• Announcing who'll be playing on our BBC Introducing stage at the Wychwood Festival.
• Part two of the first-ever hometown gig for Redditch pop group Badeye, in session for BBC Introducing.
Music Played
In session

Playing our stage at the Wychwood Festival

Appearing at Dubs In The Middle

Appearing at HowTheLightGetsIn
23 - 27 May: Dubs In The Middle, Evesham
Dubs In The Middle Festival combines music with a VW camper show.
There will be an array of acts over the weekend, with the guarantee there is something for everybody with an added Kids Zone to make this a great festival for families.
There will also be camping available to help attendees make a weekend of it, and last year the organisers got married at the event!
24 - 26 May: Under The Hill nr Evesham
The festival is returning after a successful first event in 2017 with more capacity and will this year be opening on the Friday night.
 
Under The Hill showcases a diverse range of music, with a variety of influences, from Reggae to Ska, African Bass, Electroswing, Punk, Funk and more.
 
Festival director Mista Trick is a DJ and producer who's performed at Glastonbury, Boomtown, Nozstock, Swingamajig and Shambala.
 
Organiser Amy Everard says: "UTH is created by a small team of music and creative enthusiasts, determined to create a unique experience, with a personal touch, and above all, amazing music.
 
"We are a small, eclectic, intimate festival, with diverse music, including Reggae, Ska, Electroswing, Drum & Bass, Electro & Gypsy Punk".
24 - 27 May: HowTheLightGetsIn, Hay-on-Wye
HowTheLightGetsIn proclaims itself as the world's largest music festival combining philosophy and music, which runs at the same time as its near neighbour, the Hay Festival.
This year's line up features speakers Anna Soubry and Liz Truss as well as music from Anna Calvi, Donovan, British Sea Power, and many more.
Boasting over 500 events and artists across 12 stages, HowTheLightGetsIn brings the world's leading thinkers together with an inspiring programme of music, comedy, culture and performance.
In session
This week's live music comes from a duo who met 12 years ago at a house party and have never looked back. 
 
Scott Slater and Andy Empsall Walker, from Redditch, got chatting and realised - despite coming from completely different musical backgrounds - they love making catchy melodies together.
 
Whereas Scott lists his influences as The Beatles, Crowded House and Jason Mraz, Andy says his style comes from Jean Michel Jarre, Erasure, Duran Duran, ELO and cheesy pop!
 
They combine brilliantly as Badeye - catch their live session from the Railway in Redditch on this week's show.
 
"A fun cross-genre sound from a duo with an infectious passion for music" - Andrew Marston.
 
Features
In the gig guide: Details of Breaking Bands Festival near Bromsgrove, Dubs In The Middle in Evesham, The Hay Festival, Mello Festival near Pershore, Under The Hill near Evesham, HowTheLightGetsIn in Hay-on-Wye and the Hereford Stadium Festival.
BBC Music Introducing in Redditch
This month's sessions were recorded at the Railway in Redditch, which has become one of the main go-to venues for live music in the area.
 
Every month, we rock up to one of our leading local venues at towns and cities across the region to reflect what's hot on the local scene.