Main content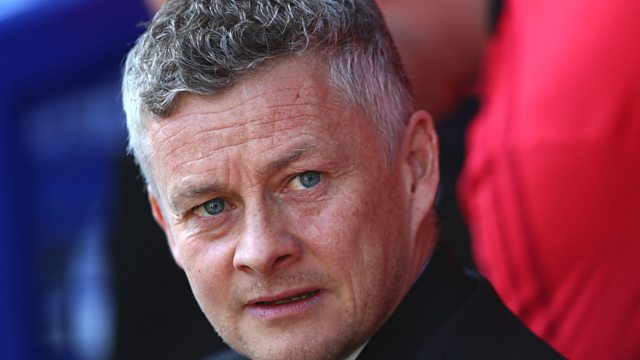 Advantage Liverpool and Solskjaer's top four troubles
The team look back on a dramatic day in the Premier League as Man United lose to Everton.
Steve Crossman is joined by former Tottenham midfielder Andy Reid, former Newcastle striker Shola Ameobi and Tom Collomosse from the Evening Standard to reflect on a dramatic day in the Premier League.
As Liverpool go two points clear at the top after a 2-0 win at Cardiff – the panel analyse whether Ole Gunnar Solskjaer should have been named as the permanent manager of Manchester United before the end of the season after they were hammered 4-0 by Everton.
The team look at how Crystal Palace was able to beat Arsenal 3-2 and whether they'll be able to hold onto Wilfried Zaha who is being linked with a move away from Selhurst Park.
It's Raheem Sterling v Virgil Van Dijk, as the team pick their PFA player of the year.
And with just three games left to go in the Championship, the panel debate who is likely to miss out on an automatic promotion spot out of Leeds or Sheffield United.
Podcast
The latest football news, analysis and big name guests with the BBC Radio 5 live team.