Main content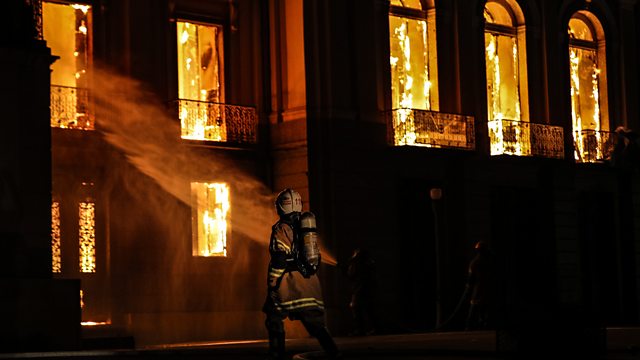 Restoring Brazil's National Treasure
Brazilians wept when their 200-year-old National Museum - repository of the nation's memory - went up in flames in 2018. But staff have vowed it will rise from the ashes.
Brazilians wept when their 200-year-old National Museum went up in flames last September. Twenty million items, many of them irreplaceable, were thought to have been reduced to ash when it was gutted by a massive fire. Staff said the loss to science and history was incalculable - and the tragedy, possibly caused by faulty wiring in the long-underfunded institution, led to much national heart-searching about the country's commitment to its heritage. The museum, housed in Brazil's former Imperial Palace in Rio de Janeiro, held unique collections of fossils, animal specimens, indigenous artefacts, as well as Egyptian and Greek treasures - and the oldest human skull found in the Americas. Some scientists, who saw their entire life's work go up in flames, were in despair - but others vowed to work to rebuild and restock the museum. Now, months on, painstaking archaeological work in the debris has uncovered items that can be restored, while other specialists are setting out on expeditions to acquire new specimens. Tim Whewell reports from Rio on the agonies - and occasional small triumphs - of the slow, exhausting effort to bring a great national institution back to life.
(Image: A Brazilian firefighter attempts to extinguish flames during a fire at the National Museum of Brazil, Rio de Janeiro, Sept 2018. Credit: Getty Images)
Podcast
Download the latest documentaries Investigating global developments, issues and affairs.