Main content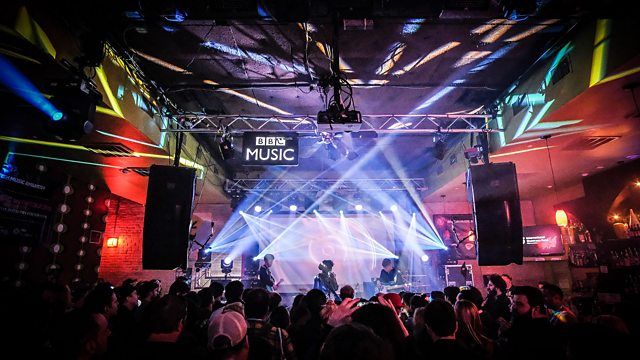 Andrew Marston with highlights from SXSW in Austin, Texas
Unsigned, undiscovered & under-the-radar music from Herefordshire and Worcestershire.
• Highlights from our BBC Introducing showcase at SXSW in Austin, Texas.
• With the Redditch music producer writing internationally best-selling songs.
• Ella Nozworthy, of Nozstock fame, talks about how their Bromyard festival has grown over two decades.
• Meeting the Malvern chorister who's launching herself as a YouTube sensation.
Music Played
St Patrick's Day celebrations

Artist of the Week

Appeared on our stage at Nozstock

Appearing at our next recording session
SXSW
Austin, Texas, becomes a music mecca every March - and we, at BBC Introducing, play our part at the world-famous new music festival by flying the flag for the best of British.
 
BBC Music returned, this week, to the British Music Embassy to present a four night showcase of six acts we flew out to the States.
 

Artist of the Week
26-year-old Redditch producer Astronomyy has enjoyed chart success after co-writing and co-producing a multi-platinum worldwide hit with MNEK & Zara Larsson, as well as racking up millions of streams on his edit of American singer Billie Eilish's viral debut single Ocean Eyes.
 
Astronomyy, who's real name is Arron Davey, has also started his own record label called Lunar Surf.
 
He was raised on a heavy dose of '90s and '00s pop & RnB with equal measures of '60s and '70s rock.
Nozstock
Russell Howard describes it as "a rural slice of English eccentricity" and Phill Jupitus & The Blockheads say "Nozstock is the best festival of its size in the UK".
 
Rudimental and Soul II Soul have been announced as the headliners of this year's Nozstock in Bromyard, celebrating 21 years of the family-run festival.
 
The event, which began as a family BBQ, will also see performances from local artists Alex Lleo, Inwards, Arcadia Roots and The Stiff Joints.
Features
In the news: The Dubliners prolong St Patrick's celebrations with a Worcestershire gig.
In the gig guide: A role in the Archers for a Bromyard Folk award winner.
Chorister
A young Malvern chorister is propelling her voice further than the back row of pews, through a new YouTube channel which she hopes will get her name out there as a solo artist.
 
12-year-old JJ Maxim is, by all accounts, a bit of a rising star.
 
Last time we spoke to JJ, she was about to sing The Snowman with a live orchestra at Gloucester Cathedral.
BBC Music Introducing in Droitwich
Our next recording session takes place on the last Sunday in March at the Norbury Theatre in Droitwich.

The 176-seat venue, which is run by local volunteers, hosts a variety of events from plays, cinema screenings and live streaming from the West End. 
The venue is situated inside Norbury House, an Art Deco building which started life as a luxury hotel - although it's role of putting up guests overnight was reasonably short-lived, having been used as a military hospital in WWII. 
The Norbury Theatre came into being in 1962 for the sole purpose for local amateur societies having a venue to perform at. 
Nowadays, they share Norbury House with 96 flats. The theatre takes up the largest area of the building, including dressing rooms on the first floor, extensive properties storage in the cellars and scenery in the old kitchens! Not forgetting, of course, the auditorium, foyer and stage! 
The event takes place between 2pm and 6pm and admission is free. 
More details...