Main content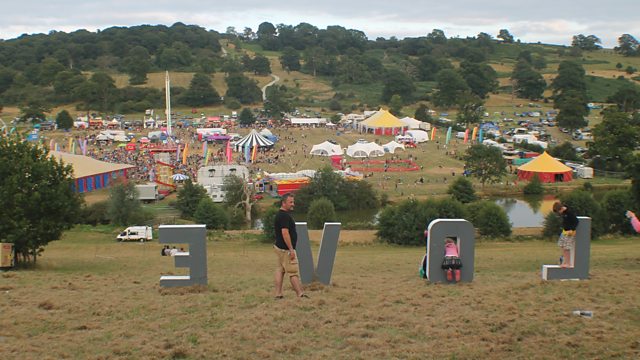 Andrew Marston with the organisers of Lakefest
Unsigned, undiscovered and under-the-radar music from Herefordshire and Worcestershire.
• Malvern's Roving Crows talk about organising Lakefest at Eastnor Castle with James headlining.
• The latest blog from Kington and Bromyard's Mice In A Matchbox as they sail around the Carribean.
• The organisers of the Linton Festival discuss the changing nature of their event, near Ross-on-Wye.
• A new television programme breaks down how John Bonham is one of the greatest drummers of all time.
• Chatting to Nozstock as they announce Rudimental and Soul II Soul as their Bromyard headliners.
Music Played
Artist of the Week

Featured blog

Appeared at Nozstock
Artist of the Week
The Roving Crows were in Andrew Marston's Hot For 2018 countdown and followed it up by winning the Best International Artist at the Australian Celtic Music Awards.
 
As well as running the ever successful Lakefest, the band has played countless festivals across Britain and France. 
 
They were also the group that officially launched our Sunday Introducing show.
 
The group has been a firm fixture on the local music scene after moving to Colwall from Gloucestershire and are now living in Malvern.
 
Last week, they announced James as the headline act for Lakefest at Eastnor Castle, joining The Happy Mondays, Sophie Ellis-Bextor and The Bluetones on stage.
We are sailing!
This week, we hear from the Herefordshire duo Mice in a Matchbox, who've spent the last few years floating across the globe, dropping anchor and playing shows wherever the wind takes them!
 
Singer/songwriter Sally Stamford, from Kington, and guitarist/vocalist Jim Rolt, from Bromyard, have been recording us an audio diary about their adventures on board the boat Chaos.
 
In this episode, we hear hear of their travels to Bequia in the Caribbean.
The Linton Festival
The Linton Festival has been held at The Alma Inn since 2001 and it's still going strong.
 
The event attracts international bands and is attended by festival goers from all over UK.
 
It's spread over three days in July and donates incredible amounts of money each year to local charities.
 
We see how the preparations are going for their 2019 event.
Focus on John Bonham
A new television programme explores how Redditch's John Bonham was one of the greatest drummers of his time.

Guitar, Drum and Bass on BBC Four
looked at the role of the drummer in its first episode with Stewart Copeland from The Police.
Nozstock announcements
Rudimental and Soul II Soul have been announced as the headliners at this year's Nozstock in Bromyard.
 
It's the 21st anniversary of the start of the festival will also see performances from local artists Alex Lleo, Inwards, Arcadia Roots and The Stiff Joints.
 
The event, which began as a family BBQ, has been growing ever since.