Main content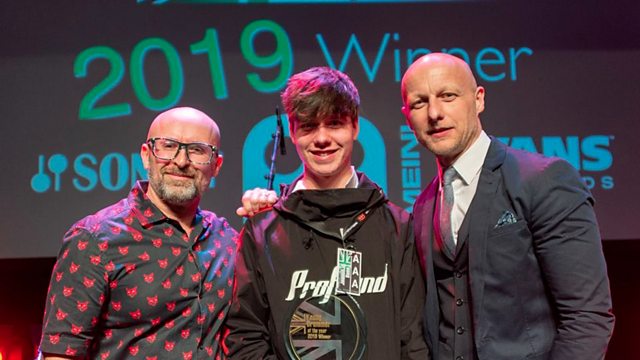 Andrew Marston introduces the Young Drummer of the Year
Unsigned, undiscovered and under-the-radar music from Herefordshire and Worcestershire.
• Live tracks from Kington's Ellie Goulding as we celebrate the BBC Sound of 2019.
• Reaction as Hereford losing its key place to buy new music.
• Looking back on the Independent Venue Week celebrations in Worcester.
• We're at Bromsgrove's Young Drummer of the Year competition. The judges included Rita Ora, Olly Murs, Emeli Sandé, Squeeze and Kim Wilde's drummers.
• He's a teacher by day and creates soulful electronic grooves by night. Kidderminster's Andy Edwards joins us for part two of his live session.
Music Played
Former Artist of the Week

BBC Sound Of: Live Performance

In session
Young Drummer of the Year
The national finals of the Young Drummer of the Year came to the Artrix, in Bromsgrove, last Sunday.
 
Now in its 18th year, the event has grown and given the winners a chance to perform all over the world.
 
Judging the competition were a group of professional drummers who play with artists such as Squeeze and Kim Wilde, and previous contestants who've gone on to star alongside Rita Ora, Olly Murs and Emeli Sandé.
 
Each drummer had 10 minutes to impress the judges by playing an original composition, their interpretation of a track written specifically for the show and performing with a band with just one rehearsal.
HMV shuts in Hereford
The music retailer, HMV, has been saved from closure - but closed the Hereford shop with immediate effect.
 
The high street chain has been bought out of administration by a Canadian businessman, Doug Putman, saving the Worcester and Redditch branches.
 
However, 27 stores - including Hereford's - have closed, resulting in more than 400 redundancies.
In session
Andy Edwards is a drummer, producer and also works as a course tutor at Kidderminster College.
 
He's been a drum clinician and has toured the world with rock legend Robert Plant.
 
In his spare time, Andy also plays drums and percussion with Worcestershire band Quill - alongside Bev Bevan from ELO.
 
But he's an amazing performer in his own right - and joined several staff members and students of the college to reboot his old project Kundabuffa.
 
"A beautiful blend of genres creating incredible soulful music that speaks right to the heart" - Andrew Marston.
 
Highlights: Independent Venue Week
We're looking back on Independent Venue Week, which really put Worcester in the national spotlight for the incredible community we have around here.
 
On the Wednesday evening, the focus was very much on the city's Marr's Bar - on Pierpoint Street - with Paradiddles carrying the torch for the rest of the celebrations.
BBC Music Introducing in Kidderminster
This month's sessions were recorded at one of the main musical hubs in Herefordshire & Worcestershire.
 
Kidderminster College, which was also the springboard of the highly successful MAS Records, has been offering students an insight into the music industry in their performance, production and technology courses.
 
Alumni include Quantic, Funkagenda and The Twang.
 
Ellie Goulding
The BBC Sound list started in 2003 with the aim to showcase the most exciting rising stars in music.
 
16 years later, and the aim is the same - to continue predicting some of the biggest and most exciting global superstars, including previous winners Adele, Sam Smith, Ellie Goulding, HAIM, Years & Years, Ray BLK and Sigrid.
 
The acts that appear on Sound Of are all hand-picked by a panel of impartial music industry experts from around the world.
 
This year - to celebrate - a special gig took place at Maida Vale studios featuring new talent and past success stories.
 
Step forth Kington's Ellie Goulding... The Herefordshire musician started singing as part of her drama classes at Lady Hawkins High School, while living in Kington, later performing at Open Mic nights while attending Hereford Sixth Form College - at Doodies (which is no more) on St Owen's Street.
 
She's now Herefordshire's most successful-ever export - having achieved more top 40 records than the Pretenders and Mott The Hoople put together.
BBC Music Introducing in Ledbury
Our next recording session will take place on Sunday, 24 February at The Market Theatre in Ledbury.
 
The venue now holds the baton after a long history of performances in the town – dating back as far as the 19th century.
 
We'll be bringing along handpicked musicians from Herefordshire and Worcestershire to record their live sessions for broadcast.
 
They've all uploaded their tracks to the BBC Music Introducing Uploader - but didn't know they were being considered for this incredible opportunity!
 
This free event, which is open to everybody, kicks off at 6pm and you're more than welcome to turn up anytime until 10.30pm.