Main content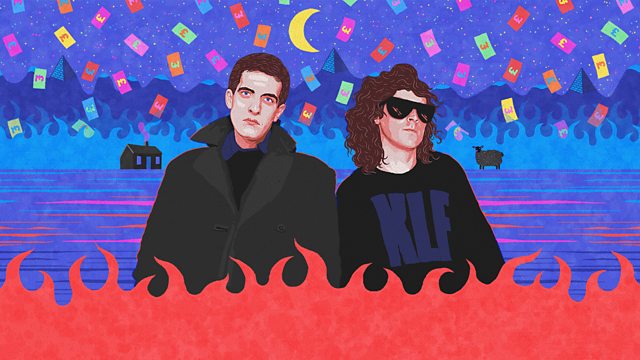 Rule 1
A music executive called Bill Drummond ditches his job and sets off on a mission to shake up the industry by causing chaos and confusion.
Rule 1. Begin an inner alchemy to transcend the consensual reality tunnel and move from a state of fixation to a condition of mutability.
Outrageous comedy drama telling the true story of the chart-topping pop duo known as KLF who, in 1994, burned £1 million in cash on a remote Scottish Island, with only one journalist and their roadie-come-fixer, Gimpo, in attendance. Why? Why would they do that?
How To Burn a Million Quid lays the story bare. A comic, surreal and fast moving adventure that sees Bill and Jimmy rise to the very top of the music industry, becoming the biggest selling music act in the UK before crashing out of the industry in spectacular fashion and heading toward the art world with the intention of creating similar mayhem. Inspired by a madcap theatrical genius and a cult novel, they blaze a trail that takes them to Sweden, the North Pole and the Sierra Nevada, via Northampton, before arriving finally on the Isle of Jura, with two suitcases containing a million quid.
It was their mission to cause chaos. And they did.
A sonic roller coaster featuring Paul Higgins (The Thick of It, Line of Duty) as Bill Drummond, Nicholas Burns (Nathan Barley, The World's End) as Jimmy Cauty, with Kevin Eldon as Gimpo, Jeremy Stockwell as Ken Campbell and an outstanding cast of multi-voice comedy performers.
Bill Drummond: Paul Higgins
Jimmy Cauty: Nicholas Burns
Gimpo: Kevin Eldon
Ken Campbell: Jeremy Stockwell
Everyone else: Kate O'Sullivan, Polly Kemp, Ronnie Jhuttie and Niall Ashdown
Original music by Somerset & Lewin
Original music by MZYLKYPOP (Mick Somerset, David Lewin, Simon Lewinski, Rachel E, Flip Clegg and Thom Foote)
Sound Design by Carl Scheleeshti Johnson
Produced and Directed by Boz Temple-Morris
Written by Sean Grundy and Cara Jennings
A HOLY MOUNTAIN production for BBC Radio 4.
Seven of the most outrageous bands ever