Main content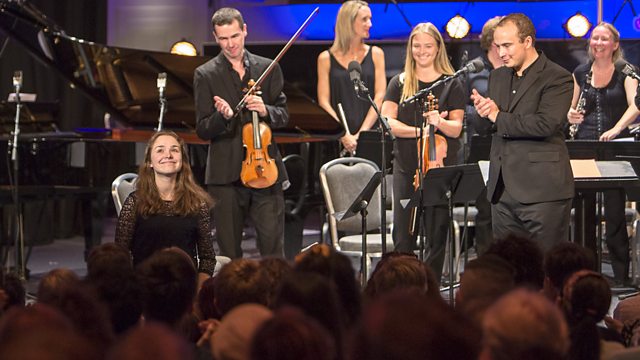 Sarah Jenkins: Trallali, Trallaley, Trallalera
BBC Commission by Senior Winner of the Proms Inspire Competition 2017
Sarah Jenkins, born 1998, is a clarinettist, composer and a winner of the BBC Proms Inspire Competition 2017 (Senior category).
As part of her prize Sarah Jenkins was commissioned by the BBC Proms to write a new piece for Aurora Orchestra, taking inspiration from Mahler's Des Knaben Wunderhorn, a collection of German folk poems set for voice and orchestra. Sarah took part in a series of workshops with mentor-composer Martin Suckling and Aurora Orchestra to create her piece.
Trallali, Trallaley, Trallalera received its world premiere by Aurora Orchestra, conducted by Christopher Stark, as part of the BBC Proms Inspire Concert at the BBC's Radio Theatre, New Broadcasting House on 22 August 2018.
"I was struck by the beauty of the songs from Mahler's Des Knaben Wunderhorn that depicted nature, but also by the hidden darkness of the considerable number with a military theme. I combined lines from seven of these to create a new poem, to allow me to explore the relationship between the natural world and the duties of a soldier. The title, Trallali, Trallaley, Trallalera, reflects the folk tradition of the poems and I wanted to use it as a symbol for the youthful optimism of the soldiers during the dawn patrol. As the piece progresses, it takes on a dark irony as the soldiers are confronted by the horrors of war; the pastoral scene interrupted by the discovery of fallen comrades. I have explored parallels between the cyclical patterns found in nature and the continuation of conflict."
Duration:
Featured in...
The BBC Proms Inspire scheme brings together some of the UK's brightest young talent.
More clips from BBC Proms