Main content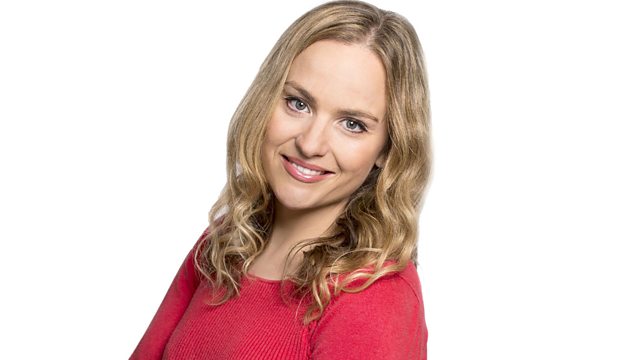 How to forage food fit for a dinner party
Kat Cowan and local guests produce great recipes from her own kitchen that you can try at home. This week a Sheffield Egg, stuffed chicken and a honey and lemon sponge
The Sheffield Egg served with a winter salad of local grown miners lettuce and foraged dandelion.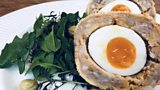 By PJ Taste 
This is the first of 3 recipes that could be served up at a dinner party. Much of this can be prepared ahead of time at the ingredients really showcase the best Sheffield and the surrounding areas have to offer.  
Serves 4 
Ingredients
· 4 Local free range eggs
· 72g breadcrumbs soaked in 60ml vegetable stock 
· 60g PJ taste pickle (or use your favourite)
· 80g grated Fountains Gold Yorkshire Cheddar cheese
· 200g Moss Valley pork sausage meat
· 1 tsp Henderson Relish
· Dish of equal quantities of toasted breadcrumbs, sesame, pumpkin and sunflower seeds    for coating
· Dish of 1 egg mixed with 100ml milk  
Method 
Prepare a baking tray of the coating mixture by toasting in the oven a mixture of breadcrumbs, pumpkin, sesame and sunflower seeds until nicely coloured.  Briefly blend to form a crumbs fine enough to coat the eggs but still having some texture. 
Boil a pan of salted water using enough to easily cover 4 eggs. Once boiling carefully lower the eggs into the water and immediately start your timer for 6 minutes.  You want to achieve a runny centre to the yolks. 
After 6 minutes, remove the pan and after pouring off the hot water leave under a running cold tap to cool the eggs as quickly as possible.  Once cool carefully peel – the eggs will be quite soft so go carefully. 
Divide the coating mixture into four equal balls.  Using wet hands press the balls into a flat circle and carefully place around the eggs sealing the edges to ensure no gaps. 
To finish dip in the egg/milk and then in a mix of toasted breadcrumb, and seed mix to form a "shell".  Ideally using a rounded silicon mould (to help keep the shape) bake in a pre-heated oven at 200 degrees until the pork coating is cooked to 75 degrees. 
Cool then blast chill.  Will keep refrigerated for a maximum of three days.
Chicken ballotine stuffed with Stanage Millstone Cheese and preserved local heritage tomatoes
By PJ Taste 
Serves 4 
Ingredients
• Four 7oz/200g Chicken breasts
• 6oz/175g Stanage Millstone Cheese
• 3.5oz/100g Preserved heritage tomatoes 0r sun-dried tomatoes
• 2 little gem lettuce (each cut in half)
• 150ml white wine, 200ml single cream and parsley for sauce
• 1/4 finely diced onion
• 15 new potatoes - to be boiled and crushed for the garnish
• Some herbs for garnish, we added Saltbush a perennial plant grown on our plot 
Make an incision into the "fat" end of the chicken breast and using the knife blade make a pocket to stuff with the seasoned tomato and cheese mix. Wrap in cling film and tie each end ready to poach in water. The chicken breast can be poached the day before your dinner - ideally a temperature probe should be used to ensure the centre reaches above 75C degrees. These should then be cooled as rapidly as possible prior to refrigeration.
On the night of your dinner they can be re-heated by cooking in a hot pan with oil and butter. (Please ensure the cooking time allows the centre to reach a piping hot temperature). Remove the chicken to rest whilst you cook the lettuce and make the sauce.
Fry the halved little gem lettuce in the same pan to gently wilt adding some additional butter. Again remove and keep warm.
For the sauce simply soften the onion in the remaining pan juices, "deglaze" the pan with the white wine allowing it to reduce by one third. Add the cream and chopped parsley and check the seasoning. You can at this stage "monte au beurre" which means adding chilled cubes of butter, swirling then into the sauce to achieve a rich and silky smooth finish.
Serve with crushed new potatoes, cutting the chicken in half and arranging with the sauce and your chosen herb garnishes.
Steamed sponge with honey, rosemary, lemon curd and spun sugar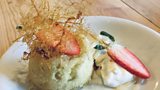 By PJ Taste 
Serves 4  
The sponge can be made as one large sponge in a pudding basin or as individual portions using smaller "dariole" moulds.
Ingredients
· Lemon Curd: 175g/ 6oz of a quality lemon curd make or ideally make your own!
· 175g/ 6oz butter softened
· 140g/ 5oz caster sugar
· 3 eggs
· 175g/ 6oz self-raising flour
· 1 tbsp  milk
· 1.5 tbsp local blossom honey
· 2 tsp finely chopped fresh rosemary or thyme
· 1 tsp vanilla extract 
Generously grease your pudding basin or individual moulds.  
Put the lemon curd into the bottom of the single or split between the individual moulds.  Put the ingredients for the sponge in a food processor and blend until smooth (but don't overwork the mix), then tip into the pudding basin or split between the individual moulds. Cover with a lid made of baking parchment and foil, and tie with string. Stand the pudding on the upturned bowl in a saucepan and pour in enough hot water to come halfway up the side of the pudding basin. Set over a medium heat and bring to the boil. Cover the pan with a tight-fitting lid, lower the heat to a gentle simmer and leave to steam for 2½ hrs or 30 minutes for individual moulds, topping up with boiling water if the level gets too low.  
To decorate your plates add "pools" of a local fruit puree, crème fraiche and dehydrated fruit along with a spun sugar nest or spun sugar shards. 
N.B.  Spun sugar is a "cheffy" trick which is easier than it may seem!  Simply melt 175g/ 6oz caster sugar in a pan bringing to the boil without stirring.  Once a caramel colour take off the heat and for shards pour onto a greased baking tray breaking into shards once set.  For a fancy basket drizzle the caramel over the base of a greased ladle again leaving to set before removing.