Main content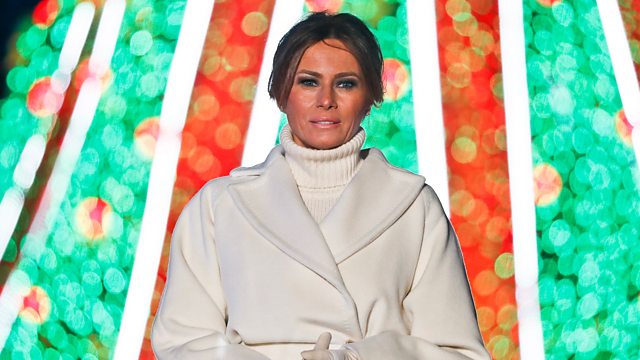 Christmas with Melania
A profile of US First Lady Melania Trump, one of the world's most recognisable women.
Melania Trump is the second foreign-born First Lady and Donald Trump's third wife; an ex-model, 24 years his junior, who once posed pregnant in a gold bikini on the steps of her husband's jet. It was modelling – for GQ, Sports Illustrated and others – that took Melania from small-town Slovenia to New York and her fateful first encounter with the future President. The most notable thing about Melania Trump as First Lady has so far been her absence. It took her five months to relocate from New York to the White House. Friends have described her as someone who likes to stay at home, who often retires early from events and who dislikes being the centre of attention. Some unkind commentators have speculated that she is a kind of hostage, shackled by marriage to Donald and a role in public life which she did not seek and does not enjoy. But others have claimed that far from being a victim of her husband's success and inimitable style, she is a formidable force in her own right.
So who is Melania? What does she believe? And what might she do on the global stage which – however improbably, given her origins in far away Slovenia – she now shares with the President of the United States? Lizzie O'Leary speaks to people who know and who follow one of the most recognisable women in the world.
Podcast
Download the latest documentaries Investigating global developments, issues and affairs.