Main content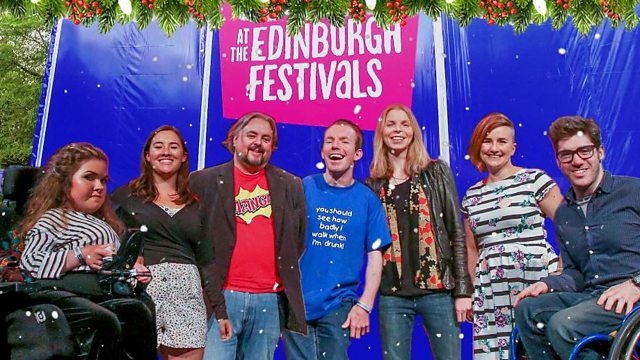 Christmas repeat: Passionately kissing your 'mum' to prove a point
A passionate kiss with 'Mum' and an embarrassing wardrobe malfunction
Merry Christmas from the BBC Ouch team! As a little gift to you from us, we thought we'd give you another chance to listen to some of our fabulous performers on BBC Ouch: Storytelling Live at the Edinburgh Festival Fringe 2018.
Going out can be fun, but add in a disability or mental health problem and it can become fraught with challenges - and embarrassment - if these real-life tales are anything to go by.
From passionately kissing your "mum" to prove a point, to suffering a wardrobe malfunction in the middle of Manchester and receiving a diagnosis of ADHD after risking everything and taking a pill in a nightclub - you're probably going to have second thoughts about ever leaving your house again after hearing these stories.
Aaron Simmonds, Fran Aitken and Jessica Donohoe revealed their embarrassing encounters for BBC Ouch: Storytelling Live, a show at the Edinburgh Festival Fringe. Hosted by Lost Voice Guy.
And watch out in 2019 for the opportunity to step onto that stage yourself - Merry Christmas!
Subscribe to Ouch, or wherever you get your podcasts from. Like us, rate us and leave a nice review - this helps others find our programmes.
Email ouch@bbc.co.uk Tweet @bbcouch or find us on Facebook.
Podcast
Disability from a fresh angle featuring interviews, discussion and the occasional quiz.