Main content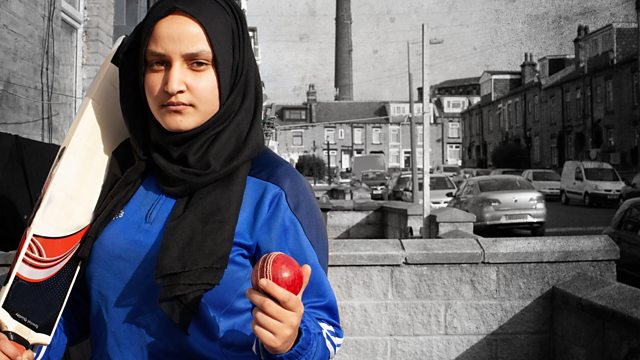 Bats, Balls and Bradford Girls
The first all-Asian girls' cricket team train for their last tournament together. Now they have left school, will outside pressures of life get in the way?
This BBC Three film follows the first all-Asian girls' cricket team over the summer holidays as they train for their last ever tournament together. The team started at school four years ago when their only experience of cricket was their dads and brothers watching it on the TV. In spite of this, they took to it like naturals and began winning all the tournaments they entered.
All of the girls have had to fight to be part of the team. They have faced backlash from some of the local Pakistani community, for whom cricket is strictly a boys' sport. Some of the parents don't want their daughters staying out late to train. They have been told that girls should stay at home, study and help their mums with the housework. They have had to prove to their male peers that girls can play sport too. Plus, the team have had to play in what is an otherwise all-white, elite schools girls' league, facing prejudice and proving themselves as the underdogs. At one of their matches, the other team laughed at them for wearing headscarves and refused to shake their hands.
When asked what gives them the edge over their rivals, they say 'adversity'. Because nobody wanted them to succeed, they have had to work together as a team more closely than their more privileged peers. They look out for each other and overcoming the obstacles from every direction has brought them closer together. For some, the cricket pitch is the only place where they feel like they can be their true selves.
The team has taken a break for their GCSE exams, but once the summer holidays start they are back on the field to train for their last tournament together. After the summer they will all be going their separate ways, all going to different colleges. The tournament will be held at the legendary Headingly cricket stadium and they will be playing some of the best girls' teams in Yorkshire. Hami is their coach leading them to victory. It is their final chance to prove themselves as Yorkshire girls' champions and they want to go out with a bang.
The film is narrated by Zainab, who is the team's star bowler. A high achiever, she is predicted top marks in her GCSEs. She knows once this summer is over she is going to have to concentrate on her studies. She wants to be a lawyer, but her dad Sajid has other ideas for her future, preferring her to be an optician or dentist. Plus, he doesn't like Zainab leaving the house without a chaperone so she is struggling to get to the training sessions to take advantage of her last summer training with her beloved team.
Hanfia is the dark horse of the team. Always wearing all black hoodies and ripped jeans, the others tease her for being a goth or emo. She used to get into a lot of trouble in school leading to her getting kicked out and only came back to play cricket. More of a creative than academic, Hanfia is looking forward to going to art college in Leeds to meet people who she can fit in with better. And her mum Sameena just wants the best for her.
Most of the team are from Pakistani backgrounds, but Jasmin's family are Rohingya and fled persecution from Myanmar. She was born in a refugee camp in Bangladesh just after her father died. After starting a new life in the UK nine years ago, tragically her mother was in a car accident, leaving her partially paralysed. Now Jasmin, along with her four siblings, care for her mum who cannot walk or feed herself. A natural sportswoman, Jasmin was scouted for a football scholarship at one of the best schools in America. But her duty to her family and looking after her mum meant she turned it down. The cricket team helped her through this difficult time, giving her a space to be a teenager again. Looking after her mum is Jasmin's top priority so this summer is her last opportunity to play sport with the team that gave her so much.
Cricket means so much to each of the girls for different reasons. It is their freedom and independence. It is their rebellion against what is expected of them. But it was the structure of school that bound them together and made them train every day. It was their excuse to be out of the house without their parents. If they don't train regularly, they will jeopardise their chances of winning. Now school is over, will the team stay united to play their final tournament?
Music Played
Timings (where shown) are from the start of the programme in hours and minutes
00:02

Janis Joplin

Catch Me Daddy

00:04

tUnE-yArDs

Water Fountain

00:08

Nadine Shah

Divided

00:10

This Is the Kit

Hotter Colder

00:17

Florence + the Machine

Third Eye

00:19

Yeah Yeah Yeahs

Sacrilege

00:23

Lauryn Hill

Lost Ones

00:26

Nadine Shah

Nothing Else To Do

00:27

Tune-Yards, Patrick Gregoire

Bizness

00:31

London Grammar

Wasting My Young Years

00:43

Florence + the Machine

Long and Lost

00:44

Nina Simone

&

Studio Rio

I Wish I Knew How It Would Feel To Be Free
Credits
| Role | Contributor |
| --- | --- |
| Director | Gussy Sakula-Barry |
| Executive Producer | Liesel Evans |