Main content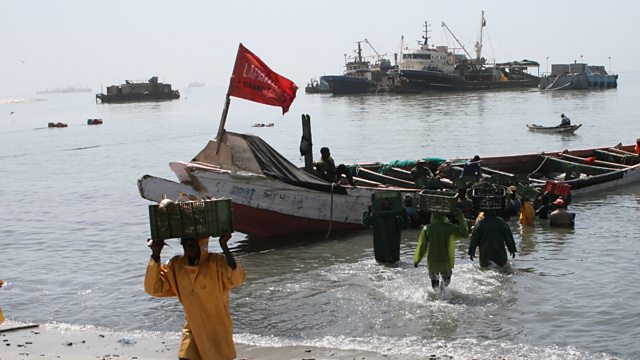 West Africa's Fish Famine
Fish catches along the coast of Senegal are collapsing after overfishing, mainly by foreign trawlers. Whilst in Mauritania a massive industry is consuming the region's fish.
Overfishing is blighting traditional livelihoods along the coast of Senegal. Fish catches are collapsing there after years of overfishing, mainly by foreign trawlers, some of whom are fishing illegally. Meanwhile, Senegal's traditional fishermen have been evicted from the rich waters of neighbouring Mauritania, leading to a vicious circle of rapidly falling catches, economic desperation and yet more overfishing. Some have continued crossing the border, provoking an armed response from Mauritania's coastguard. Senegal's main traditional fishing port St Louis has seen anti-Mauritanian violence break out as a result. Alfonso Daniels travels to St Louis to find a community in despair, with some young men now seeing no choice but to join the exodus of migrants trying to reach Europe. He also gains rare access to Mauritania – usually off-limits to foreign journalists – and discovers an insatiable onshore fish processing industry now being encouraged across the region, and consuming catches on a vast scale. Much of the industry is fed by big foreign trawlers, and the end product, known as fishmeal, exported to wealthier countries to feed livestock and aquaculture. At the centre of this story is the humble sardinella, a small oily fish which migrates up and down the West African coast, breeding and supporting other species as it moves across borders. With bigger and more nutritious fish routinely exported, sardinella is a staple for several West African countries whose people cannot afford meat. It is also the stock that fishmeal factories typically utilise. Its increasing scarcity threatens millions with malnutrition. As fish stocks collapse and powerful interests vie for those that remain, ordinary Africans are paying the price.
Producer: Michael Gallagher
(Photo: Artisanal fishermen unload their catch on the beach at Nouadhibou, Mauritania's only fishing port. Credit: BBC)
Podcast
Download the latest documentaries Investigating global developments, issues and affairs.