Main content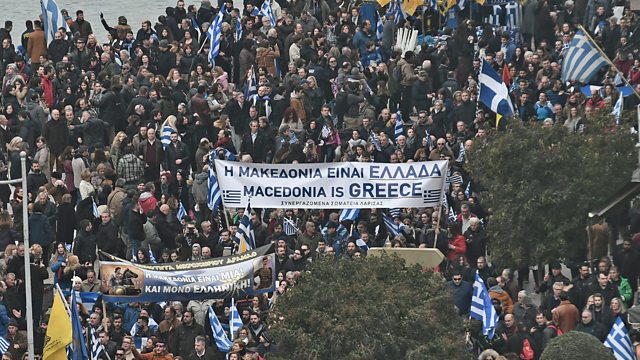 Macedonia: What's in a Name?
The name 'Macedonia' is disputed by two nations. Lake Prespa is bordered by Greece and the Republic of Macedonia but their disagreement means they can't reach each other's shores.
The name 'Macedonia' is hotly disputed by two neighbouring nations. The Greek province of Macedonia and the country calling itself the Republic of Macedonia border Lake Prespa. The villagers on the lake's shores share a language and a culture, but it's impossible to cross or drive around the lake because of the dispute with Greece over the Republic's name. After years of stalemate, the governments of the two countries have agreed on a new name, the Republic of Northern Macedonia. But this has sparked angry protests by nationalists on both sides of the border. As The Republic of Macedonia prepares to hold a referendum on its name on 30 September, Maria Margaronis visits both sides of the lake to find out why this issue is so contentious - and how a painful history is being exploited by the far-right, politicians, and other interests on both sides. What do local people - and the lake stand to gain once the dispute is settled? And what's holding them back?
Producer: Chloe Hadjimatheou
(Image: Greek protest against Macedonia name change. Credit: Giorgos Georgiou/NurPhoto via Getty Images)
Podcast
Download the latest documentaries Investigating global developments, issues and affairs.