Main content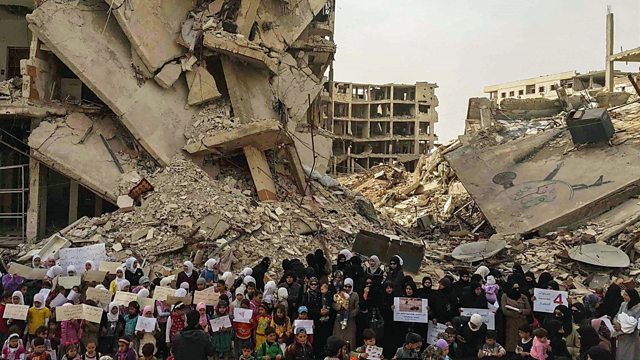 Besieged
The everyday reality of living and dying under siege in Syria.
Over the last seven years as many as a million people in Syria lived under siege, 400,000 of them in Eastern Ghouta alone. Some were trapped for more than four years of bombardment, sniping and near starvation. The walls that stopped them fleeing also prevented many of their stories leaking to the outside world. They could not leave and journalists, along with aid workers and human rights groups, could not get in. Over recent years, Mike Thomson has been using internet links and social media to get inside these isolated and often forgotten places. He has garnered compelling and moving interviews with residents in some of the hardest to reach places. We hear from long besieged Daraya, Eastern Ghouta, and IS surrounded Yarmouk to Eastern Aleppo, Madaya, Homs and Raqqa. With great fortitude and bravery many people told Mike their stories as bombs shook the walls around them. The result is extraordinary picture of everyday life in some of the most frightening and devastated places on earth. Yet amid the grim accounts of death, loss and destruction are inspiring examples of resilience, courage and hope. Most of these besieged areas have now been overrun and evacuated, but this programme ensures that what they went through will not be forgotten.
Podcast
Download the latest documentaries Investigating global developments, issues and affairs.