Main content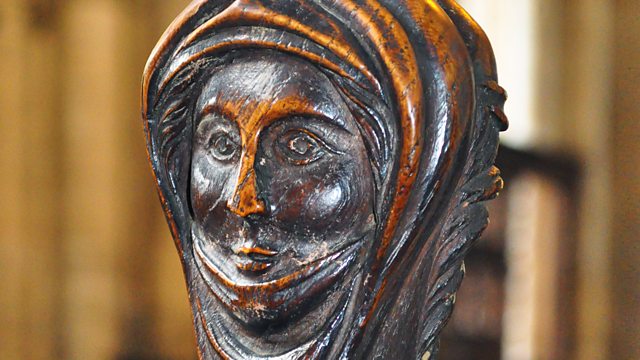 Margery Kempe and English Mysticism (Summer Repeat)
Melvyn Bragg and guests discuss Margery Kempe (1373-1438), the English mystic who went to Jerusalem and dictated her life story, said to be the first autobiography in English.
Melvyn Bragg and guests discuss the English mystic Margery Kempe (1373-1438) whose extraordinary life is recorded in a book she dictated, The Book of Margery Kempe. She went on pilgrimage to Jerusalem, to Rome and Santiago de Compostela, purchasing indulgences on her way, met with the anchoress Julian of Norwich and is honoured by the Church of England each 9th November. She sometimes doubted the authenticity of her mystical conversations with God, as did the authorities who saw her devotional sobbing, wailing and convulsions as a sign of insanity and dissoluteness. Her Book was lost for centuries, before emerging in a private library in 1934.
The image (above), of an unknown woman, comes from a pew at Margery Kempe's parish church, St Margaret's, Kings Lynn and dates from c1375.
With
Miri Rubin
Professor of Medieval and Early Modern History at Queen Mary, University of London
Katherine Lewis
Senior Lecturer in History at the University of Huddersfield
And
Anthony Bale
Professor of Medieval Studies at Birkbeck University of London
Producer: Simon Tillotson