Main content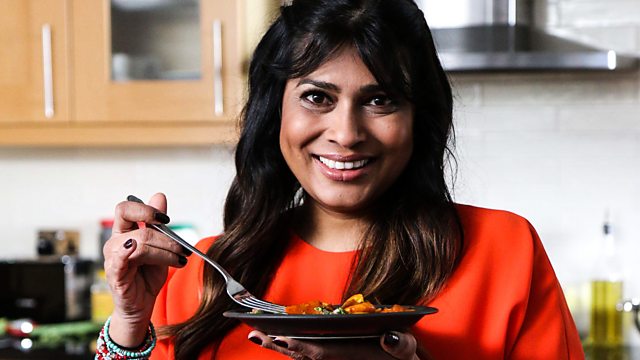 Nisha Katona discovers family recipes passed down from across the Indian subcontinent. Nisha visits Greater Manchester to meet amazing home cooks from the Bangladeshi community.
In this series, restaurateur Nisha Katona travels around the UK meeting passionate home cooks to discover family recipes passed down through generations from across the Indian subcontinent.
In this episode, Nisha travels to Greater Manchester to meet incredible home cooks from the Bangladeshi community. Eight out of ten restaurants referred to as Indian across the UK are actually owned by Bangladeshis, so Nisha starts her exploration into this cuisine in one of the many Bangladeshi-run curry houses in this area. Most of the regular favourites served in curry houses, like chicken tikka masala and baltis, are dishes that were created in this country to suit a western palate and don't even exist across the Indian subcontinent. At the Last Monsoon, restaurant owner Shahin is trying to change things and introduce more traditional Bangladeshi dishes to his customers. However, the most authentic Bangladeshi dish made in the kitchen is a well-kept secret that isn't even on the menu. Every night, as in many curry houses across the country, the staff sit down to a home-style meal cooked in the kitchen, quite different from many of the dishes on the menu. Nisha is invited to see how this staff curry is made and sits down with the staff to enjoy it at the end of everyone's shift.
In search of more authentic Bangladeshi dishes, Nisha goes to meet a group of enthusiastic women who have set up a stall in Hyde to promote their own Bangladeshi recipes. She tries some of their homemade snacks, many of which she has never come across before. There she meets Liza, a passionate cook who invites her back to her house to try an authentic Bangladeshi fish curry. Fish is the most important part of the Bangladeshi diet. Before they head to Liza's house, Nisha takes her to her local Asian supermarket where there is a huge range of frozen fish imported from Bangladesh.
Liza takes Nisha back to her house to make a traditional curry with rohu, one of Bangladesh's most popular river fish. The curry is made with Bangladeshi spices and the most important flavouring is mustard seed. Once they have made the fish curry, Nisha sits down to enjoy it with Liza and her extended family. Nisha has heard about a chef called Afruj working at a local cooking school in Oldham who is keen to make sure the next generation of curry chefs introduce some traditional Bangladeshi dishes onto the restaurant menus. Nisha takes part in one of his classes where they're learning how to make a Bangladeshi dish classic called beef shatkora, a slow-cooked curry made with a citrus fruit unique to Bangladesh.
As well as slow-cooked curries, there are quick dishes that use Bangladeshi spices and flavours. Sarah is a second-generation working mum who likes to cook quick modern dishes, inspired by the flavours she grew up eating but with ingredients easy to find in the local supermarket, and she makes Bangladeshi spiced fishcakes with Nisha. To end her time with the Bangladeshi community, Nisha is invited to attend a traditional wedding ceremony. Before the event itself some of the bride's female relatives gather together to produce a stunning food centrepiece called a shagorana - a marinated roast chicken dressed up to look like a real bird using carved vegetables. Nisha joins the women at home to help bring this creation together, and on the day of the wedding, the shagorana is paraded with pride by the bride's aunt.
Last on

More episodes
Next
You are at the last episode
Music Played
Timings (where shown) are from the start of the programme in hours and minutes
Credits
| Role | Contributor |
| --- | --- |
| Presenter | Nisha Katona |
| Series Producer | Sally Wingate |
| Executive Producer | Narinder Minhas |
| Director | Ed St Giles |
| Composer | Ben Parsons |
| On-line editing | Dan Preston-Bear |
| Colourist | Graeme Hayes |
| Re-recording mixer | Adam Wood |
| Makeup Artist | Nicole Fairfield |
| Hairdresser | Nicole Fairfield |
| Runner | Zara Lee |
| Runner | Sania Rehman |
| Production Coordinator | Laura Kennedy |
| Production Manager | Catherine Donohoe |
| Editor | Steve Brown |
| Production Company | Sugar Films Limited |
| Producer | Sarah Louise Jones |