Main content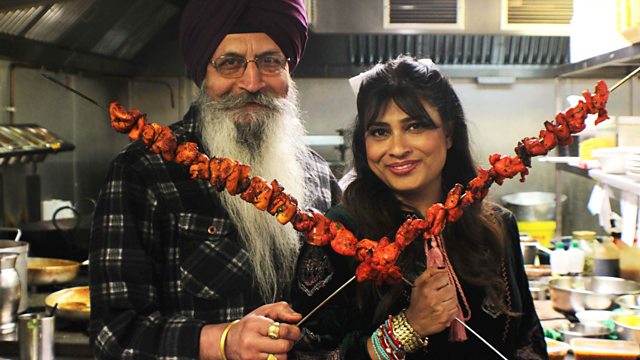 Nisha Katona discovers family recipes passed down through generations from across the Indian subcontinent. Nisha travels to the West Midlands to learn about Punjabi food.
In this series, restaurateur Nisha Katona travels around the UK meeting passionate home cooks to discover family recipes passed down through generations from across the Indian subcontinent.
In this episode, Nisha travels to the West Midlands, which has the largest population of Punjabis living in the UK, to discover all she can about Punjabi food from the north of India. Punjabi cuisine is famous for its rich dishes and she wants to understand more about the ingredients, cooking techniques and culture that has given this cuisine its unique characteristics.
Nisha starts her exploration at a Sikh temple in Birmingham, where food plays an integral role in everyday temple life. Each day in Sikh temples there is a custom known as langar where they serve vegetarian meals that anyone can come and eat. Here she meets a group of women skilled at making perfect chapatis - the main staple of Punjabi cuisine which is known as the bread basket of India.
Next, Nisha visits a Punjabi martial arts class known as Shastar Vidiya. Here she discovers the connection between the ancient warrior culture of Punjab and their high calorie food. She meets Rav there, a keen Punjabi cook who shows her how to make a deliciously rich goat curry. This is food to make you 'tharkara,' a Punjabi word that refers to physical might and strength. Most Punjabi immigrants came to the UK from rural Punjab in the 1940s and 50s to work in the foundries of Wolverhampton and Birmingham. Food helped the transition from rural Punjab to the industrial heartland of Britain and Nisha wants to understand more about the role it played. She meets Sathnam Sanghera, author of a book about his childhood, growing up in a traditional Sikh family in Wolverhampton. He tells Nisha about his mum's dedication to Punjabi food which she cooked daily for all the family and the integral role it played in his upbringing. He takes her to the home he grew up in and shows her the back garden where his mother grew many of the produce farmed in Punjab. Growing up, there were no fences and many of the Punjabi immigrant families created mini allotments at the back of their homes to ensure they could get the fresh ingredients needed to make their delicious food.
Spinach is a central part of Punjabi cuisine and spinach paneer is one of Punjab's best-loved dishes. It is easy to make and much more exciting than the way we traditionally serve spinach in the UK. Baksho Ark is a mother and grandmother, who shares her recipe for spinach paneer with Nisha. It is a dish much loved by all her family and is really quick to prepare. To end her time in the West Midlands, Nisha visits a popular Punjabi restaurant in Wolverhampton where they are preparing for a first birthday party. First birthdays are a big celebration in Punjabi culture and food is always at the heart of them. Nisha is back stage in the kitchen helping with the preparations and seeing how they make classic tandoori chicken tikka the authentic Punjabi way. The chicken is grilled in a tandoor oven - synonymous with Punjab where villagers would traditionally take their bread and meats to cook them in communal clay tandoor ovens. Nisha finishes her time with the community on a high - joining in the first birthday party celebrations in style, tucking in to some delicious tandoori chicken tikka and marvelling at the generosity associated with Punjabi food and culture.
More episodes
Previous
You are at the first episode
Music Played
Timings (where shown) are from the start of the programme in hours and minutes
Credits
| Role | Contributor |
| --- | --- |
| Presenter | Nisha Katona |
| Series Producer | Sally Wingate |
| Executive Producer | Narinder Minhas |
| Director | Ed St Giles |
| Production Manager | Catherine Donohoe |
| Production Coordinator | Laura Kennedy |
| Assistant Producer | Anoop Singh Kung |
| Runner | Pav Gill |
| Composer | Ben Parsons |
| Makeup Artist | Nicole Fairfield |
| Hairdresser | Nicole Fairfield |
| Editor | Steve Brown |
| On-line editing | Dan Preston-Bear |
| Colourist | Graeme Hayes |
| Re-recording mixer | Adam Wood |
| Production Company | Sugar Films Limited |
Featured in...
A bold and exciting range of programmes looking at the stories of British Asians.

A collection of documentary box sets