Main content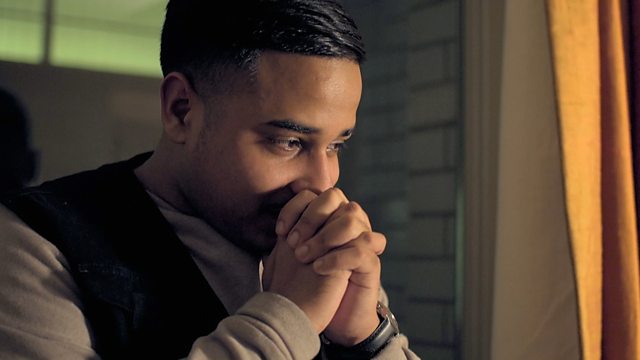 Mim Shaikh: Finding Dad
Broadcaster Mim Shaikh hasn't seen his dad since he was a baby. He goes on a journey to investigate his family's secrets, discovering more than he could ever imagine.
Mim Shaikh is a radio broadcaster, actor and spoken word artist. He has loved to entertain since he was a child, but there's always been something, or someone, missing.
When Mim was just six months old his mother left his father in the West Midlands, taking Mim with her to south London. Mim never saw or heard from his father again. He grew up surrounded by his mother's family, with barely a mention of his father. They have no idea where he is or whether he is alive or dead. Mim's mother has suffered from mental health problems all her life and it has been impossible for Mim to ask her about his father.
In this film Mim embarks on a deeply personal journey, delving into his family history to discover the truth of what happened to his parents' marriage. His main quest is to find his dad and ask him why his mother had to leave all those years ago - and why he's never been in touch.
Information on his father is almost non-existent. Mim starts his search with three photos of his dad taken in 1991 that he's never seen before. Speaking for the first time to close family members about his parents' marriage, he begins to build a picture of his father's character. As he delves deeper into his father's story, he discovers his dad is far older than he expected - he fears that he may have died and his search will be in vain.
His search takes him to Dudley, which is where he was born and which is his dad's last known location. But every lead turns out to be a dead end, until he meets a group of his dad's old friends who break his case wide open. Mim sets out on an unforgettable global journey to finally get the answers he's been wanting for 26 years.
Credits
| Role | Contributor |
| --- | --- |
| Presenter | Mim Shaikh |
| Executive Producer | Suzanne Lavery |
| Producer | Lottie Gammon |
| Director | Lottie Gammon |
| Camera Operator | Lottie Gammon |
| Line Producer | Selina Ferguson |
| Production Company | Lightbox Media Limited |
Featured in...
A selection of the best programmes in 2018

Enjoy BBC Three's best flagship Comedies, Documentaries and Dramas.