Main content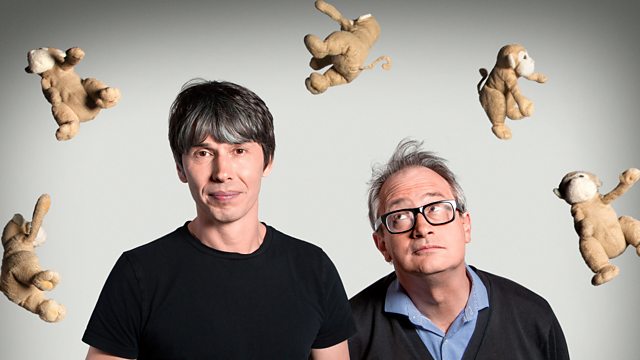 100th Episode TV Special
Prof. Brian Cox and comedian Robin Ince host a TV special of the witty and irreverent hit science/comedy panel show, looking at the big scientific discoveries of the past 10 years
Professor Brian Cox and comedian Robin Ince host a TV special to celebrate the 100th episode of the witty and irreverent hit science/comedy panel show, looking at the big scientific discoveries of the past 10 years.
Joining them are comedians Katy Brand, Brian Blessed, Eric Idle, Dave Gorman and Andy Hamilton (to name a few) to consider what has been learnt since the first episode back in November 2009. Science royalty Alice Roberts, Neil De Grasse Tyson, Sue Black, Fay Dowker, David Speigelhalter, Richard Wiseman, Tony Ryan and Andrea Sella name their own big scientific discoveries, from the Higgs Boson, to gravitational waves, to our understanding of how humans evolved.
Plus the panel are joined by Reverend Richard Coles and the former Dean of Guildford The Very Reverend Victor Stock, to give their view from Clergy Corner. More tea and infinite particles vicar?!
Watch the 100th episode of The Infinite Monkey Cage anywhere in the world.
Credits
| Role | Contributor |
| --- | --- |
| Presenter | Brian Cox |
| Presenter | Robin Ince |
| Presenter | Katy Brand |
| Panellist | Brian Blessed |
| Panellist | Eric Idle |
| Panellist | Neil deGrasse Tyson |
| Panellist | Fay Dowker |
| Panellist | Dave Gorman |
| Panellist | Andy Hamilton |
| Panellist | Alice Roberts |
| Panellist | Sue Black |
| Panellist | David Speigelhalter |
| Panellist | Richard Wiseman |
| Panellist | Tony Ryan |
| Panellist | Richard Coles |
| Panellist | Victor Stock |
| Panellist | Andrea Sella |
| Production Coordinator | Maria Simons |
| Production Coordinator | Amy Jackson |
| Unit Manager | Ross Millard |
| Director | David Hillier |
| Producer | Michael Gray |
| Series Producer | Alexandra Feachem |