Main content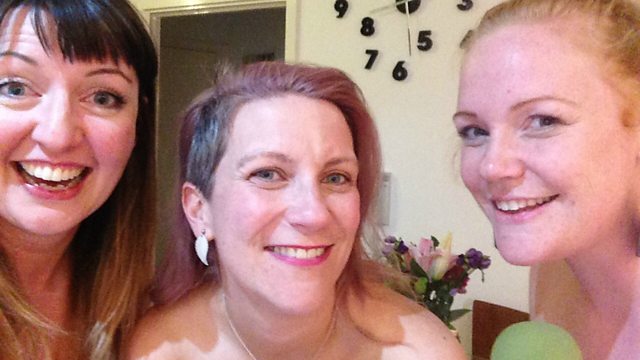 "I just kept thinking Kylie's fine, I'll be fine"
Breast cancer survivor and campaigner Emi Lou reveals why she has heart-shaped nipples.
Breast cancer survivor and body equality campaigner Emi Lou Howe had a double mastectomy after being diagnosed with breast cancer when she was 33. She documented her treatment and surgeries with a nude visual diary and blog.
Cheshire based Emi Lou makes the journey to Jen's flat from across the Pennines to talk about her mission to get fair representation of women in the mainstream media.
The mum of two explains how overcoming the illness helped her realise her body's strength and how two heart shaped nipple tattoos have given her breasts a makeover. Emi Lou also chats about 'booby showers' and the toe curling question she had to ask Kylie whilst working for a top women's mag.
Kat reckons she's got a new walk and eases Jen's concerns about her hairy nipples…
PS. Who left those pubes in the bath tub?!
Emi Lou's blog: https://mummyoneboob.com/
Her campaign: https://bodequality.com/
As always, we love hearing your thoughts, opinions and reviews:
Twitter: @TheNakedPodcast
Instagram: The Naked Podcast
Email: nakedpodcast@bbc.co.uk
We'll love you forever if you can find it in your heart to leave us a review on your podcast app. Helps other people find us, and keeps us in work!
Podcast
Two friends. One guest. No clothes. Celebrating and undressing the taboos about nudity.