Main content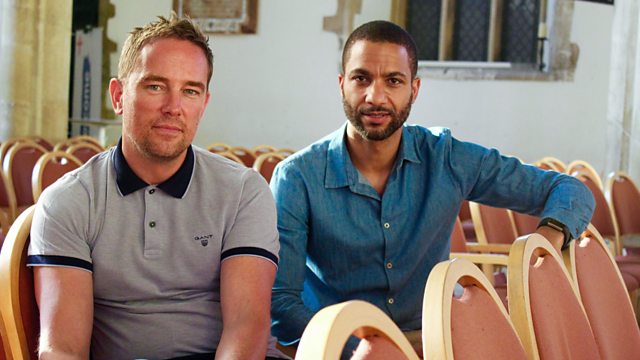 Simon Thomas: I promised my wife I wouldn't give up on my faith
Sean meets TV presenter Simon Thomas whose wife Gemma died of leukaemia last year, 3 days after being diagnosed, to hear how his Christian faith gives him hope.
Cancer has touched many of our lives, often through a person we know. But the sudden loss of someone we love dearly can be particularly hard to deal with. TV presenter Simon Thomas began his career on Blue Peter and until recently was the face of football on Sky Sports when he announced he would be stepping down.
In 2005, he married Gemma and they had a son called Ethan. But in November 2017 they discovered Gemma had a rare cancer known as AML – Acute Myeloid Leukaemia. Just three days after her diagnosis, she died.
Simon tells Songs of Praise presenter Sean Fletcher about the deep Christian faith which he and Gemma shared, and how it's given him strength.
"The Bible talks about a 'peace that passes all understanding.' I never really understood what that was. I just thought it was a nice place to be. But actually you feel that sense of peace in the impossible situations in which to find peace. And in the three days after Gemma's diagnosis, where everything's coming at you, wondering what on earth acute myeloid leukaemia is, we're wondering 'is she going to survive this?' It gave me peace even amidst the noise and the fear. And it gives me the hope that one day I'm going to see her again. I know some will say 'Oh it's just a nice kind of emotional crutch that helps you at times like this', but for me it's real.
"The story of what Jesus did on the cross, and rising again, is what my faith is based on. And yet sometimes that's impossible to get your head round and draw comfort from, because you think 'how does that help me in the here and now?' I've got however more years left on this earth – without Gemma.
"At times I've literally been holding on by one finger to my faith. Because that gives the direction for everything else. It was the glue in our marriage, and it helps me in terms of how we and now me bring up Ethan. It's the reference point for my life."
Simon has taken Sean to his church in Berkshire where he & Gemma worshipped together, and to which he still belongs. Fresh with memories of her funeral service, it's a place he still finds it hard to be. But it's also a place where he has felt a deep sense of support from others.
"With a couple of others I had set up a men's group, to try and get men to talk about the more deep stuff in life, to be there to support each other. I didn't realise when I set that up that the first biggest recipient of what that group was about was gonna be [me] in the weeks after Gemma went. And that's where my support's come from because that's what church is about, it's about community, and we sit down and eat, and chat, we pray, we wrestle with some of the stuff I'm wresting with.
"And when I've been hanging on by that finger, that's what it's about. People gathering around you just saying we haven't got the answers. When you can't pray, we'll pray for you, we'll pray with you."
Simon made a series of promises to Gemma, one of which was never to give up on his faith. He says he did so deliberately and intentionally, knowing it wouldn't be easy.
"I think that's why I promised it that day, as she neared the end. I remember the next day I was sat in our lounge. The sun was streaming in. I said 'God I will not forsake you. I'm not going to give up on faith. This is going to be the biggest, hardest test of my faith that I'm ever going to go through.' I've come close at times to saying 'do you know what, I can't do this anymore. This feels like an episode of the Krypton Factor, 'I'm trying to find you God in all this and I can't. It feels like you've gone quiet.'
"He's not left my side - he has not left me.
"[But] I was really angry with God and I still get angry at times now. I don't think I'll probably every really find out why [Gemma died]. But God is beyond big enough to take my anger. He can take me shouting at him. If Jesus shouted at him on the cross, 'why have you forsaken me, where on earth are you God, at the moment I need you most?' And I've shouted at him like that. If Jesus can shout at him, I can do it as well. And he's big enough to take it."
Songs of Praise: Christianity and Cancer is on Sunday 3rd June at 4.15pm on BBC One
Duration:
More clips from Christianity and Cancer
More clips from Songs of Praise