Main content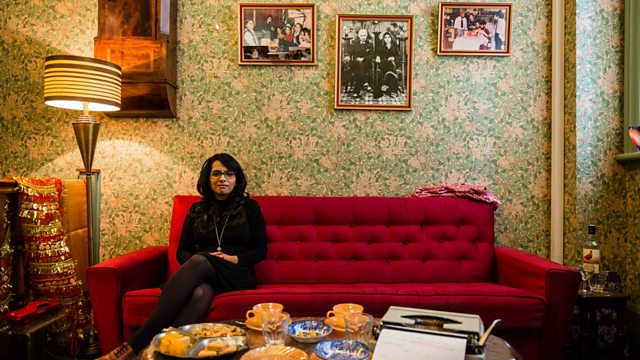 Dawinder's Memory Tapes
Dawinder shares the sounds of her childhood in the 1980's.
Dawinder is a theatre producer and artist who is taking part in the National Festival Of Making, which returns to Blackburn, Lancashire, for a second year on 12th & 13th May. Her instillation in Blackburn's indoor market will celebrate the sights, sounds and tastes of a 1980s Asian Wedding, and her memory tape harks back to the same era.
Dawinder says: "My music list is all about identity in the 1980s as a young Sikh girl, whose family migrated from India, to Kenya and then finally settled in the UK, in a Black Country town called Wolverhampton.
As the youngest in the family, I became a natural observer of my family and the culture around me. Music and stories played a huge role in my life – since my parents owned a VHS Bollywood Rental shop in 1980s Wolverhampton. I watched literally hundreds of films at home with the family but in my own time, I soaked up everything that looked different to Asian culture and customs too.
Wolverhampton was working class through and through and we were living in a town where Enoch Powell's Rivers Of Blood speech took place and still reverberated where we lived – sometimes experiencing obvious racism and sometimes quite subtle. But interestingly, I never felt any different. I knew that I was different, because of the colour of my skin but I never felt it. While my parents owned a Bollywood shop, I secretly joined an English Video Shop and rented all the American films I could watch. I just loved stories and being transported into new worlds that film could do.
Music does that for me too, it takes me into different points in my life. Sometimes, those places are happy and sometimes they are sad – but they always tell a story. This is why I do what I do now and feel so passionate about telling the stories of every day people through theatre, film and visual art. All my life, I have tried to work out my identity and I see myself being someone who while has strong links to my roots – I belong to every culture. I feel being human is about connecting and through my artistic practice, I connect people as much as possible to the art I'm creating."
AS Kang -- Gidhian Di Raniye
This song is an iconic Punjabi song which I remember hearing a lot when I was growing up in the 1980s. The production of the song is so basic but this was how the music was back then. My parents only listened to Punjabi and Hindi music so I heard this music a lot of music, which enabled me to further strengthen my multi-lingual language skills. This song reminds me so much of my father who died in 1988 and when I hear it, I can see him dancing in my mind's eye.
Lata Mangeshkar - Mere Naseeb Mein Tu Hai Ki Nahi
This song is from a classic Indian film from the 1980s called Naseeb. I remember listening to this song when I watched the films (that I also pirated on multiple VHS players). And I loved it. I think it's because it was so random artistically – it had a dancing woman come out of a cake like structure. The song is iconic and I listen to this when I feel reflective, its ultimately about a woman who loves a man but it's not reciprocal. She's singing about not knowing if their lives are destined to join.
Pointer Sisters – Jump
I still listen to this regularly as an adult, because it's just a feel good song. It was feel good then and it's the same so many years later, now.
Prince - 1999
As a young girl, I could never quite work out if I liked Prince or not. Sometimes he'd seem normal and then other times, he'd be wearing pants and a mac coat and was totally bizarre! But I loved this song when I first heard it, so much so that when everyone went out, I turned up the volume really loud and I blew up the stereo amp and one of the speakers. No one was at home. I pretended I didn't do it, but they knew.
Michael Jackson - Thriller
Thriller was my first experience of a horror (as a 5 year old) but also it exposed me to elaborate dance sequences that were not Bollywood. It was different and exciting. It was high art and whenever I think of where my interest of working in the arts/creative sector started it was at that point. I was 5 years old when I saw this video.
Other tunes:
Wham - I'm Your Man & Freedom
Ankhian Udeek Diya Nusrat Fateh Ali Khan
Do they Know it's Christmas ~ Band Aid 1984
Neil Diamond – You Baby
ZZ Top - Gimme All Your Loving
Culture Club - Karma Chameleon
Kylie - I Still Love You (Je Ne Sais Pas Pourquoi)
Bhawe Bol Te Bhan We Bol - Shamshad Begum
Al Jarreau - Moonlighting Theme
Huey Lewis & The News - Power Of Love
Survivor - Eye of the Tiger
Peter Gabriel - Sledgehammer
Michael McDonald - Sweet Freedom
The Cult - She Sells Sanctuary
Nik Kershaw - I Won't Let The Sun Go Down On Me
Patti LaBelle - New Attitude
James Brown - coming to America
Cameo - Word Up
Curiosity Killed The Cat - Down To Earth
Peter Cetera - Glory of Love
Five Star - Slightest Touch
Big Country - Look Away
Duration:
Featured in...
Did you ever make a mix tape for somebody? We want to hear your Memory Tape
More clips from With Haley Heynderickx
More clips from Lauren Laverne